Khloe & Rob Go Head-To-Head On 'KUTWK:' 'Why Won't You Even Look At Me?'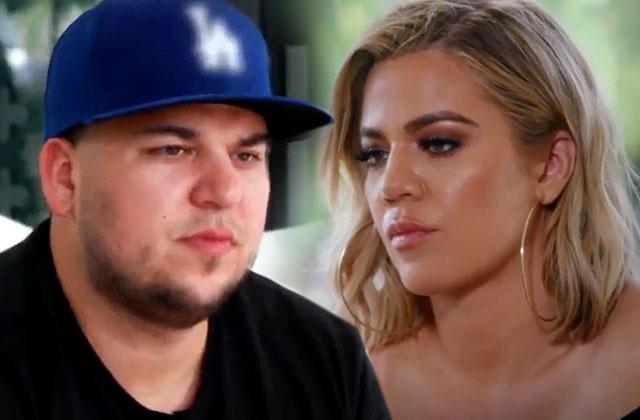 Khloe Kardashian can't seem to catch a break. On last night's episode of Keeping Up with the Kardashians, the reality star finds herself finalizing her divorce from Lamar Odom for the second time, after realizing that he won't get the help he desperately needs in his recovery.
The 32-year-old also remains estranged from "best friend" and brother Rob Kardashian due to some emoji-driven conflict involving fiancée Blac Chyna.
Article continues below advertisement
To top it all off, she's not happy with her thighs. Khloe tells trainer Don that someone on Twitter posted a photo of her with the caption: "What kind of ho works out every day and has thighs like that?"
Don and sister Kourtney look shocked as Khloe revealed, "You know what, I agree with them. I feel like when I was fat I had more muscle definition."
Back then things were different. When she was "fat" (and Rob was thin), the brother-sister duo were the best of friends; like peanut butter and jelly or peas and carrots, they were always together.
"Rob and I grew up inseparable," she tells the camera during confessional. Now it's all changed — Khloe has her revenge body and Rob is eating for two with a baby on the way. Blac Chyna, it seems, has wedged a symbolic synthetic hair piece between the Khloe and Rob, severing sibling bonds.
Meanwhile, the rest of the family is trying to pull them back together. Matriarch Kris Jenner even talks to Khloe about it.
Article continues below advertisement
"You guys haven't seen each other in such a long time. It makes me really sad," she says. Khloe, despite missing her brother, is still angry about it all. "There's no effort on his part. He hasn't reached out to me once."
Rob is also stubborn. When prompted by Kris at lunch — "Have you talked to Khloe lately? We all love you so much and I want you and Khloe to be ok" — he seems unmoved, replying, "She should be more careful about what she says. She does this to herself."
Kris then pushes harder to get through to him, offering some "healthy" chicken and broccoli: "It's your sister. She's had a hard year. It would be so easy if you would just make the first move."
Moved by the food or the powerful words, or even the producers' storyline, Rob agrees. "I'll reach out to Khloe."
Across town, Scott Disick is having a birthday party. Though he is no longer with Kourtney, the mother of his children, it's important to him that she is present at the Vegas party, as well as Khloe.
Article continues below advertisement
But Kourtney is hesitant to join in the festivities because she doesn't want to give him the wrong idea.
"I don't want to send him the wrong message because he'll take any little thing and run with it," she tells Kim. But Kim convinces her that because Khloe wants to go, they need to be supportive of her.
On the plane to Vegas, Scott pushes the idea of pre-game sex before the party starts. Kourtney shakes her head, laughing it off. Then he tries again asking, hypothetically, if she would have sex with him if the plane was going down. She stayed strong and said no, but they flirted the entire party.
Later, Rob manages to follow through on his promise, setting up a time to meet with Khloe at her house.
When he arrives, they embrace hesitantly. "You can hug me with both arms…" Khloe tells him. "I don't know why you've been avoiding me. I missed you."
Rob looks down, unable to make eye contact with her. Khloe, visibly frustrated by the silence, asks, "Why won't you even look at me?!"
"I'm pretty sure you blocked my text messages," he responds. He explains that the family and the situation has not been welcoming for Blac Chyna and that's why he's kept his distance. "I just want everyone to be happy." Khloe says she understands but doesn't want him to eliminate himself from her life.
Keeping Up With The Kardashians airs Sundays at 9 p.m. ET on E!.