Exclusive
Inside Jack Nicholson & Meryl Streep's Secret Torrid Affair!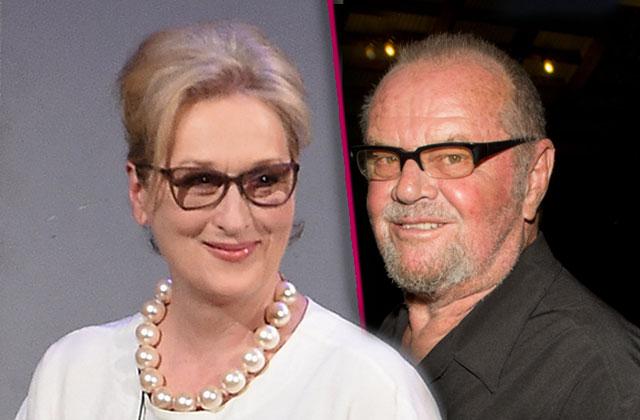 Meryl Streep and bad-boy Jack Nicholson had a torrid on-set affair nearly 30 years ago — and she still thinks he's hot!
The pair coupled up during the filming of 1987's Ironweed, and according to biographer Marc Elliot, "As soon as it began, rumors exploded like wild mushrooms that something was going on between Jack and his co-star, I'll-never-work-with-him-again Meryl Streep."
The sizzling sex romps were ironic, since Nicholson denied seducing her during 1986's Heartburn — blasting talk they had a rocky relationship as "very cruel."
Article continues below advertisement
Their second film together made a hookup irresistible, says Elliot.
Though Nicholson was with longtime partner Anjelica Huston and Streep was happily wed to sculptor Don Gummer, they couldn't keep their hands off each other!
"Often during shooting, his Winnebago seemed to be balanced on four overworked Slinkys," Elliot writes in Nicholson: A Biography of the stars' trailer trysts.
Though the Winnebago was a-rockin', the passionate pair denied reports of a fling.
But decades later, Nicholson, 79, and Streep, 67, are still over the cuckoo's nest for each other!
In 2004, while presenting an AFI Lifetime Achievement Award to her, Nicholson called his ex-flame "perfect" and said, "I love you very much."
More recently, Streep dubbed the actor the one she'd "shag" if forced to choose between him, Robert Redford and Dustin Hoffman.
In an interview with the late Morley Safer, she calls him "generous" and adds, "If you like to laugh, which I do, you like to work with Jack — 'cause it's pure, pure, pleasure."