Huma Abedin Bailed On First Date With Anthony Weiner: 'It Didn't Go Well'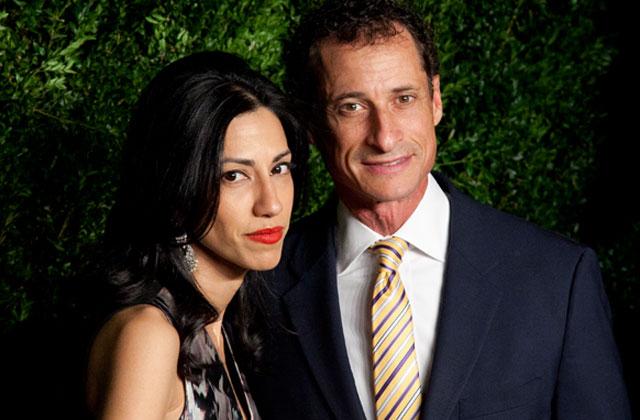 Huma Abedin wasn't swept off her feet when she first met Anthony Weiner, an instinct she probably should have paid more attention to as their relationship progressed.
In a tell-all interview with Vogue magazine, Hillary Clinton's top aide revealed that the pair's first encounter — at a Democratic National Committee event in Martha's Vineyard back in 2001 — was less-than magical.
"It didn't go so well," the 40-year-old told Vogue. "A friend of mine came up to me and said, 'Anthony Weiner like to meet you.' I was working. My mind wasn't even there. He came over, he said hello, and, honestly, that was the end of it."
Article continues below advertisement
Later, Weiner invited Abedin to join him with a group going out for drinks.
"I ordered tea, and then left to use the ladies' room, and then never came back. That was our first meeting," she recalled of ditching her cheater hubby during that first get-together.
As RadarOnline.com readers know, the couple's marriage blew up in 2011, when Weiner was caught sexting several women on the side.
But before all the drama, Abedin grew fond of Weiner — though not for his looks.
"One of the things that, because we became friendly, I found striking about Anthony was how smart he was, what a great debater he was. He was smart, he was passionate," she said of Weiner, now 51.
"When he wanted to do something that he thought was the right thing to do, he would not give up. The kind of dedication and passion he had for helping people, I found very attractive and inspiring."
After the horrific scandal rocked her personal life, Abedin revealed that she leaned on her Muslim beliefs, remembering to be strong for her son Jordan, 4.
Article continues below advertisement
"I tried to block out all the noise and move on with my life," she shared, adding that she found solace in a "really supportive group of friends and colleagues."
"I know Anthony has said this before, but Jordan was the best thing that happened to either of us," she added. "Our primary concern was the well-being of our son."
As RadarOnline.com revealed earlier this week, Weiner's former mistress claims he's back to sexting again, despite still being married to Abedin.
Do you think Huma knows and is simply turning a blind eye? Sound off in the comments below.