Exclusive
Vince Foster Death Cover-Up EXPOSED! New Claims Hillary Could Be Facing Jail Time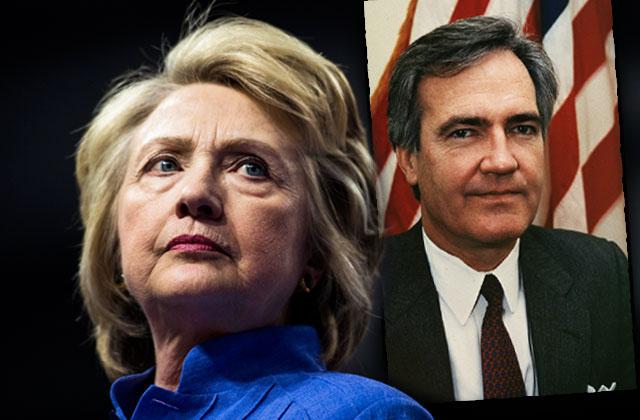 Article continues below advertisement
As RadarOnline.com has reported, the White House announced that the lawyer shot himself to death on July 20, 1993, and his body was found slumped next to a Civil War cannon in a "grassy area" of Ft. Marcy Park in McLean, Va. — but that's not what's sealed in the secret memorandum!
According to the explosive document, U.S. Park Police "discovered the body of Vincent Foster in his car" at the park.
A gun — described as a ".38 caliber revolver, "was (also) found in his car," the document states.
The Secret Service report appears to have been sent by telex to the agency's "Intelligence Division" by Special Agent Scott Marble at 10:01 pm, noted in military time as 22:01, on the day of Foster's death.
It's the smoking gun that will forever end Hillary's hopes of sitting in the Oval Office, sources say.
"This official document uncovered by RadarOnline.com will send Hillary Clinton to jail!" Larry Nichols, once a close aide to the Clinton family, told RadarOnline.com. "It exposes her as a liar and plays to the heart of the cover of Vince Fosters death."
Article continues below advertisement
"What's clear now is ... there was a mad scramble to get Vince's body out of the White House. The plan was to dump him in the park, but something may have happened and he was actually found in his car," he continued. "This is an unbelievable disclosure! To make the cover-up even more bizarre, photos were released of Vince's body that showed him on the ground in the park!"
As RadarOnline.com previously reported, investigator Robert Morrow unearthed bombshell new evidence suggesting that Foster, a deputy White House Counsel under then President Bill Clinton, could have been shot to death in his White House office.
Then, Morrow claimed, under directions from Hillary, Foster's body was moved to the park so the investigation wouldn't be under the jurisdiction of Washington, D.C., police, but instead in the hands of the U.S. Park authorities. According to Morrow, Hillary personally orchestrated the plot to smuggle Foster's 6-foot-4 200-pound corpse into a waiting government car.
Article continues below advertisement
"Vince's body was wrapped in a long, shag, multi-colored carpet," Nichols told RadarOnline.com.
In a five page 1994 letter sent to Independent Counsel Kenneth Starr by then Indiana Republican Congressman Dan Burton, it was claimed that an FBI lab report concluded "carpet fibers of various colors were found on Mr. Foster's jacket, tie, shirt, shorts, pants, socks and shoes. No effort was made to match these fibers."
The lab report also stated that "blonde to light brown hairs of Caucasian origin" that did not belong to Foster were found on his clothes and shoes "and no efforts were made and quote to match them to Foster associates."
In the months following Foster's death, rumors swirled that he was murdered by a hitman because "he knew too much" about the Whitewater investment scandal, several other Clinton misdeeds and Bill's "bimbo eruptions."
Article continues below advertisement
Foster — who attended kindergarten with Bill Clinton in Hope, Arkansas — was a partner in Little Rock's prestigious Rose Law Firm. Hillary joined the law firm after she married Bill.
In his book, The First Family Detail, author Ronald Kessler wrote, "Bill was cheating on Hillary constantly and Hillary knew it. Vince was very sympathetic to Hillary. They developed a deep friendship. They also worked late together many nights — and Vince fell in love with Hillary."
With the discovery of the Secret Service document, a "new investigation will surely be open that will expose the cover up and send Hillary to jail!" Nichols told RadarOnline.com.