Exclusive
Feud Reignited! Farrah Abraham Rips Amber Portwood's Fiancé Matt In Explosive Fight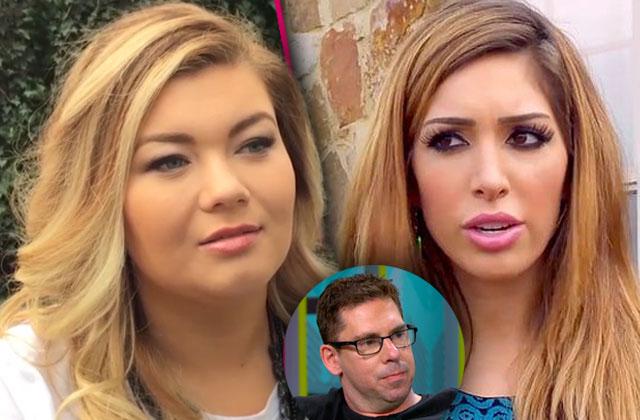 No one talks about Farrah Abraham! On this week's Teen Mom OG, Amber Portwood and Matt Baier slammed Abraham after she warned her co-star about her fiancé's shady past. Now Abraham is fighting back against her former friends exclusively to RadarOnline.com!
On last week's episode, Abraham called Portwood after reading RadarOnline.com's story that revealed Baier hit on her over Twitter before settling for Portwood.
Article continues below advertisement
Although Portwood was appreciative of the call at the time, she changed her tune when her fiancé slammed Abraham.
"Farrah called me a few days ago," Portwood said. "I feel like she kind of pushes things that don't need to be pushed."
An outraged Baier added, "She's a habitual line stepper. Any attention is good attention as far as she's concerned and that's fine. But don't drag me into it, don't drag her into it. We considered her a friend. She's dead to me right now!"
Although Abraham didn't watch the scene, she explained how losing their friendship doesn't matter to her.
"I feel sorry for Amber," she told RadarOnline.com. "She is manipulated by a scam artist and Matt even knows he's an idiot. In all honesty, they can take their disgusting relationship and stay the f**k away from me!"
The mother of one explained how she has been their only "real" and "true" friend because she respected their relationship "when no one else has."
Article continues below advertisement
"It seems to me she's chosen a man boy over her daughter and now I see why Gary Shirley has Leah," she slammed. "I don't care to hear about Amber's custody issues as it's clear what she chose — not to be a full-time mom."
Abraham went as far as to rip Baier's sobriety and friendships!
"Watching this season of Teen Mom OG is a joke," she said. "They have some random guy acting like their friend, talking about Matt's sobriety yet he's drinking, and has crazy tattoos of Twitter handles. There's warning signs all around Matt."