El Chapo's Son Kidnapped During Fancy Dinner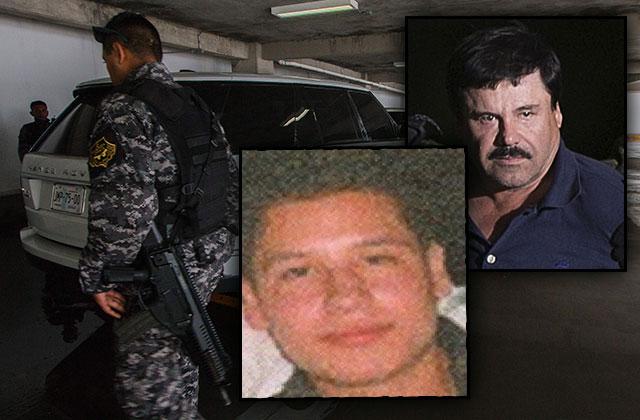 The son of notorious drug lord El Chapo was kidnapped in Mexico on Monday, and intelligence insiders say his abduction could indicate a major drug cartel war in the making.
Seven gunmen stormed into an upscale restaurant in Puerto Vallarta, a Mexican resort town where this season of Bachelor in Paradise was filmed. The armed men, who were reportedly members of a rival gang, charged into the trendy restaurant, separated the men from the women and captured Jesus Alfredo Guzman, the 29-year-old son of imprisoned Mexican drug lord Joaquin "El Chapo" Guzman, according to CNN.
Article continues below advertisement
Authorities confirmed El Chapo's son was one of six men kidnapped in the ordeal and that it is likely the work of the Jalisco New Generation cartel, a rival to El Chapo's Sinaloa cartel. However, that has yet to be confirmed.
Normally it's El Chapo who ignites the headlines. The drug kingpin famously tunneled his way out of prison in July 2015, was re-captured in January, and was later interviewed by Sean Penn for Rolling Stone.
Jalisco Attorney General Eduardo Almaguer told Mexican radio that "it is presumed" that another son of El Chapo's, Ivan Archivaldo, is among those kidnapped, The Telegraph reported.
The elder Guzman Is believed to have nearly a dozen children, Jesus Alfredo being the youngest of his children from his first marriage. Ivan Archivaldo has reportedly taken over parts of his father's business and Raul Benitez, a security specialist and political science teacher at the National Autonomous University of Mexico said the child's mental health is a concern. "Ivan Archivaldo was, I believe, a bit crazy,"Benitez said, according to the Associated Press. "He spent all his time posting things on Facebook, WhatsApp, Twitter. A serious narco doesn't do that."
"People have information about the family's movements and they want to destroy the family," Benitez added.
El Chapo is currently being held in a prison in Juarez, Mexico, while his attorneys fight to extradite the drug kingpin to the U.S.
Authorities are continuing to investigate the crime, obtaining "fingerprints from the scene, viewing video images and checking identifications related to five vehicles, some luxury models, left behind by the victims at the restaurant," The Telegraph reported.