Exclusive
Secret Split EXPOSED: 'Criminal Minds' Star Thomas Gibson Divorcing Wife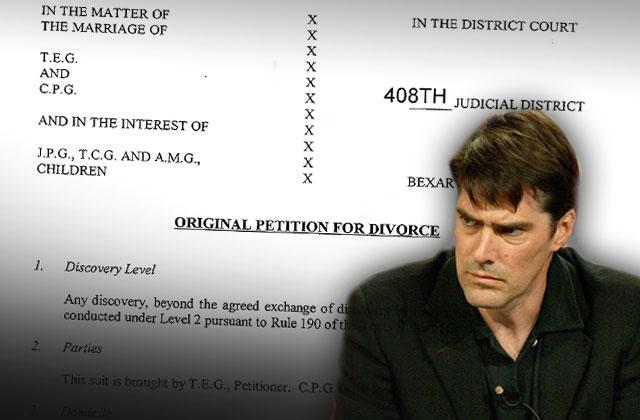 Long before Thomas Gibson was fired from Criminal Minds, his life was already falling apart: RadarOnline.com has learned that he has secretly filed for divorce from his wife of nearly 25 years!
Gibson filed for divorce from his wife, Christine, on June 18, 2014, according to court documents obtained by Radar.
READ The Secret Divorce Filing
Married on April 3, 1993, they had "ceased to live together as husband and wife," he wrote in the filing.
Article continues below advertisement
"The marriage has become insupportable because of discord or conflict of personalities … that destroys the legitimate ends of the marriage relationship and prevents any reasonable expectation of reconciliation," the documents state.
She answered on June 27, filing a "general denial," meaning she denied everything Gibson said in his petition — including the date of their marriage.
He filed a counter-petition reiterating his stance on December 10, 2015, but that was the last movement in the case.
If there are no more filings before October 25, a court clerk told Radar, then it will be dismissed.
Gibson's marriage has been rocky for years. In 2013, it was revealed that he had been the victim of an online catfish who lured him into a digital affair through Twitter.
At the time, he insisted that he and his wife had been separated for two and a half years. They have not been photographed together for several years.
Article continues below advertisement
Meanwhile, his professional life took a hit this week as well, when he was fired from Criminal Minds following an alleged physical altercation. According to reports, he kicked a producer on the show.
After his suspension, Gibson told GLOBE magazine, ""There were creative differences on the set and a disagreement. I regret that it occurred. We all want to work together as a team to make the best show possible. We always have and we always will."