Health Crisis! Vicki Gunvalson's Daughter Briana Rushed To The Hospital On 'RHOC'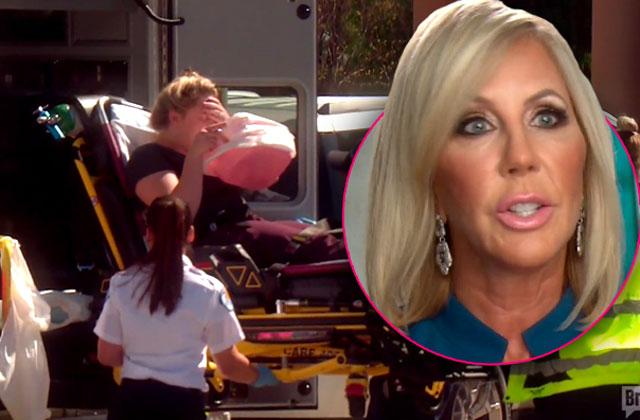 This week on the Real Housewives of Orange County, we picked up where we left off, with Vicki Gunvalson apologizing to her costars once more over her behavior when she was with ex-boyfriend, Brooks Ayers.
As Kelly Dodd's beach party moved indoors, Vicki and Shannon Beador had an icy face-off regarding the fate of their friendship. Of course, the conversation quickly escalated, with Gunvalson accusing Shannon of making the drama all about herself in the past.
Article continues below advertisement
"I made nothing about me, how dare you!" Shannon exploded.
"Don't talk to me like that!" Vicki attempted to defend herself.
"I don't know if I can have our friendship back," Shannon said in return, later telling cameras, "Vicki's not my friend anymore – done!"
"Well, I don't know if there's anything more I can do," Vicki tearfully replied, walking away from her once friend.
When the ladies gathered in the same room again, Vicki made one last effort, saying: "I love all of you guys and I want to be friends again."
Unfortunately, not everyone took the bait. "We weren't ever friends Vicki," Meghan King Edmonds dished back, later reminding cameras that they were far from pals last season, thanks to Vicki.
A few days later, Meghan and Kelly met up for a girls' night, but it was only fun and games for so long.
"I was pretty upset about Vicki," Kelly told Meghan, referencing the groups' "mean girl" behavior towards her new friend.
Article continues below advertisement
"I definitely have some thoughts, as your friend," Meghan offered guidance in a surprisingly calm manner. "I think some advice for you is to just stand back and not say anything. In those kind of situations it's probably best to just stay back."
"I know how to act, I'm a big girl," Kelly scoffed in confessional, clearly turned off by the lecture. "Meghan thinks the world revolves around her, and that's the problem with millennials."
Watch the Video on RadarOnline.com:
Meanwhile, Vicki's daughter, Briana Culberson, experienced a life-threatening health crisis.
As RadarOnline.com readers know, Briana has gone through many ups and downs on RHOC, undergoing thyroid surgery as well as having large lymph nodes removed several times over the years.
But during tonight's episode, things took a serious turn, as Briana was rushed to the hospital in an ambulance after experiencing a startling medical emergency.
MORE ON:
The Real Housewives of Orange County
Article continues below advertisement
"She's passing out in front of me," Vicki told cameras in confessional. "Briana is gasping for air. She says she's not gonna make it."
Watch the Video on RadarOnline.com:
Luckily, Tamra Judge's pseudo daughter-in-law, Sarah, happened to be nearby when the ambulance came, and offered to stay behind to watch over Briana's kids as Vicki rushed to the hospital.
Tamra arrived to the house soon after, encouraging Sarah to patch up her rocky relationship with Judge's son, Ryan.
"I really wish that they could figure this out," Tamra said, adding that it's especially important for her granddaughter's sake.
Later, over lunch, Tamra shared Vicki's heartbreaking update with Shannon, prompting Beador to contemplate her hot-and-cold relationship with Gunvalson. But judging from the preview of next week's episode, there's no hope for these two burying the hatchet any time soon.
The following day, Briana returned home, with lymph nodes so large, they compressed her lungs.
Article continues below advertisement
"We're still trying to get to the root of the issue, so testing and surgeries aren't over," she told cameras tearfully.
Last week, Gunvalson took to Facebook to thank fans for their support throughout Briana's health struggle, and asked them to keep her daughter in their thoughts.
"For those of you that have messaged asking about Briana's health, thank you so much! It's been a long journey and we are still trying to figure everything out," she wrote. "Please continue to keep her in your thoughts and prayers."
The Real Housewives of Orange County airs Mondays at 9 p.m. EST on Bravo.