Exclusive
Taylor's Nightmare! Katy Perry Joins Team Kimye In War Against Swift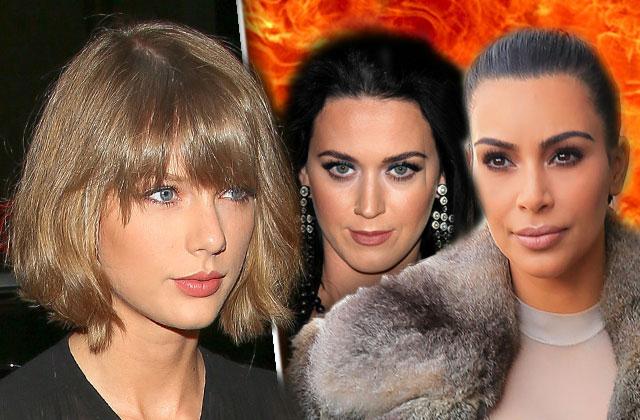 As Taylor Swift's squad unites to take fire against Kim Kardashian, RadarOnline.com has exclusively learned that the internet-breaking beauty has been breaking bread with the one person that Swift hates the most – Katy Perry!
According to a source close to Perry, 31, "Katy is so happy that someone finally put Taylor in her place!"
Swift was delivered a shocking blow earlier this week by Kardashian, 35 – who posted a video on social media suggesting that Swift lied about her involvement in Kanye West's song, "Famous." Swift has denied that she knew he'd call her "that b***h" on the track.
Article continues below advertisement
And although Perry has limited her comments on the ordeal to coy tweets, the insider told RadarOnline.com that she PERSONALLY let Kardashian know how grateful she truly is!
"Katy called Kim personally to thank her after she saw the video exposing Taylor," said the source.
"She has dealt with Taylor's high school mind games and lies for so long and she is so glad that Kim showed the world ."
As RadarOnline.com previously reported, Swift maintains that her beef with Perry started in 2014 when she accused the "Hot N' Cold" singer of stealing her dancers while she was on her "Red" tour.
But the friend told RadarOnline.com that the real reason Swift started swinging is over her and Perry's mutual ex-boyfriend, John Mayer.
"Katy thinks that it all comes down to the fact that John wanted to be with her and not Taylor," the insider said, adding, "That is real reason Taylor brought up the drama about Katy stealing her dancers."
Do you think that Katy Perry should speak publicly about Kim Kardashian and Taylor Swift's feud? Sound off in the comments below.