Katy Blasts Taylor Swift Feud With Jaw-Dropping Tweet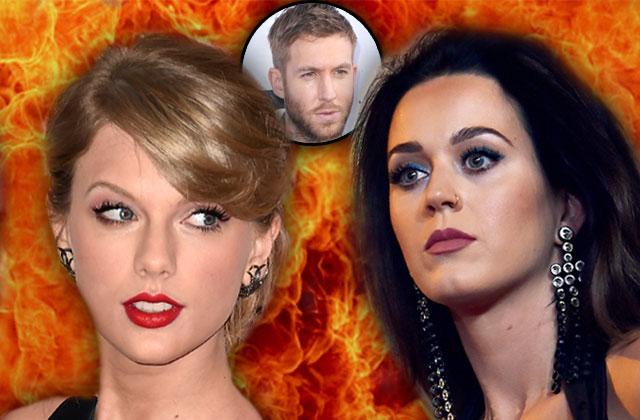 The bad blood between Taylor Swift and Katy Perry is far from over!
Earlier today, Swift's camp revealed that SHE was the one who actually wrote Calvin Harris's new smash hit featuring Rihanna, "This Is What You Came For," under a pseudonym. Almost immediately, Harris fired back at his estranged 26-year-old "Red" singer ex -- this time bringing her ongoing battle with nemesis Katy Perry into the mix, yet again!
Article continues below advertisement
Harris stirred up the drama when he tweeted at his ex, "I know you're off tour and you need someone new to try and bury like Katy ETC but I'm not that guy, sorry. I won't allow it."
Even after Swift released "Bad Blood" last year, which is said to be all about her feud with Peery, the "Hot N Cold" singer has pretty much kept her silence. But she could not resist to do so today, by tweeting a video meme featuring Hillary Clinton giving a knowing look and a shoulder shrug, followed by a devious laugh.
Minutes later, Perry blasted Swift, yet again, with another mean-girl tweet, which said, "Time. The ultimate truth teller."
As all fans of pop music know, Perry, 31, and Swift have been in a nasty back-and-forth battle since 2014, when Swift unloaded during an interview with Rolling Stone.
"She basically tried to sabotage an entire arena tour," Swift claimed. "She tried to hire a bunch of people out from under me. And I'm surprisingly non-confrontational – you would not believe how much I hate conflict. So now I have to avoid her. It's awkward, and I don't like it."
Article continues below advertisement
Meanwhile, Harris is stoking the fires of his own feud with Swift, sending out a series of bitter Tweets in response to today's news that she wrote the lyrics to "This Is What You Came For."
"I wrote the music, produced the song, arranged it and cut the vocals though. And initially she wanted it kept secret, hence the pseudonym," Harris tweeted.
After that, the 32-year-old DJ took his first swing at Swift's new relationship with hunky actor, Tom Hiddleston, 35, by tweeting, "I figure if you're happy in your new relationship you should focus on that instead of trying to tear your ex bf down for something to do!"
Who do you think is wrong in this situation? Taylor Swift, Calvin Harris, or Katy Perry? Sound off in the comments below.