Busted Again! New Claims Taylor KNEW Kim's Video Blast Was Coming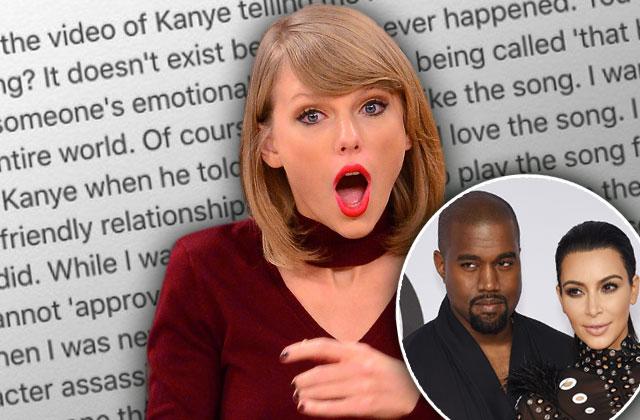 Kim Kardashian only released the bombshell footage of the phone call between Kanye West and Taylor Swift last night, but now it appears the "Blank Space" singer is already caught in another lie!
Swift, 26, posted a statement on Instagram shortly after Kardashian, 35, shared videos of her conversation with West, 39, on Snapchat. Her reaction seemed to be written in the moment — but it may not be as impromptu as it first appeared!
Article continues below advertisement
Swift's screenshot included the "search" function at the top of the app, indicating that she had to go through her notes to find the statement before posting. If she had written her message in the moment, the screenshot would have read "notes" instead of "search."
She purposely didn't include the timestamp with the date the note was created on as well.
A full-resolution image of the screenshot also revealed that there was more to the statement —indicating that Swift had scrolled up on her phone before taking the photo!
The text, barely covered by the search banner, reads, "because it doesn't exist."
RadarOnline.com previously reported that Swift and her team denied the conversation ever took place, while Kardashian told GQ that her attorney sent a letter asking the couple to "destroy" the footage.
The reality star and the rapper clearly did not comply with the letter, and decided to leak the footage after an episode of KUWTK slamming the singer for lying about the call aired. The E! show did not contain video of their conversation.
"I think she got freaked out by the reaction, and all of a sudden, she flipped," North and Saint's mom explained on the show.
Stay with RadarOnline.com for more on the Swift/Kardashian/West feud.