Exclusive
Real Gold Digger of Orange County? Kelly Dodd Demands Tens Of Thousands In Divorce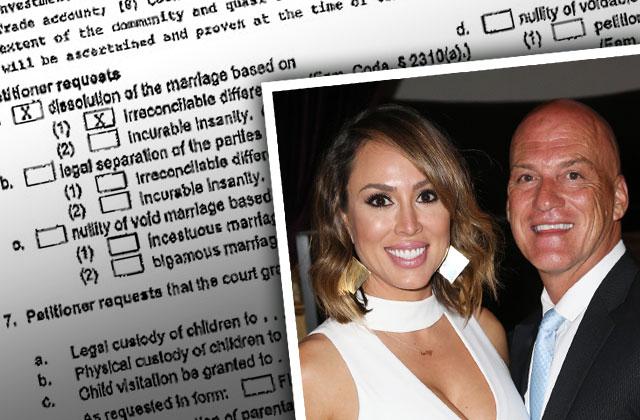 Before Kelly Dodd reconciled with her husband Michael, she demanded tens of thousands in her divorce filing! RadarOnline.com has obtained exclusive court documents revealing the excessive amount she asked for.
Kelly cited irreconcilable differences in her divorce filing from her husband of then-6 years on March 6, 2012.
READ THE EXPLOSIVE DIVORCE DOCUMENTS!
The Real Housewives of Orange County star, who shares daughter Jolie with Michael, requested spousal support and asked her husband pay $20,000 in attorney fees.
Article continues below advertisement
In the filing, Kelly explained how her husband has an annual salary of $500,000 and received of bonus of the same amount.
"Since the day I filed for dissolution of marriage, March 6, 2012, Respondent has only given me access to $5,000 for our daughter's and my current needs," the papers read. "My monthly rent is $5,5000 per month, Jolie's monthly school fees average $1,000."
Based on her husband's income, Kelly asked the court order temporary spousal and child support of $41,666 despite her total monthly expenses of $15,850.
She also claimed he has $1,000,000 in a Wells Fargo Bank account that she asked to be equally divided between the two.
In Michael's filing, he asked the court to deny her request for spousal support and attorney fees.
He explained how she began working in sales at the Orange County Register in Fall 2011 off a guaranteed commission of $50,000 per year, but quit her job in April 2011 because she "has chosen not to" work.
Article continues below advertisement
"I have been paying all expenses and at Petitioner's counsel's request I transferred $50,000 to Petitioner," he explained. "Petitioner does not use the funds that I provide her to just provide for her and our daughter's living expenses. Petitioner spends money frivolously, has a tendency to shop a lot, and uses a great deal of funds on purchasing unnecessary items."
The couple, who tied in the knot in April 15, 2006, never finalized their divorce.
On a recent episode of RHOC, Dodd explained why they never went through with ending their marriage.
"It was a nightmare," she said of her relationship with the "control freak." "It made me realize it was easier being with him and having my family together than being divorced. We don't have a perfect marriage at all, but I'm going to suck it up like my parents did."
The Real Housewives of Orange County airs Mondays at 9/8c on Bravo.