Exclusive
Wish Upon A Rock Star! Jon Bon Jovi Makes A Dream Come True For Lucky Fan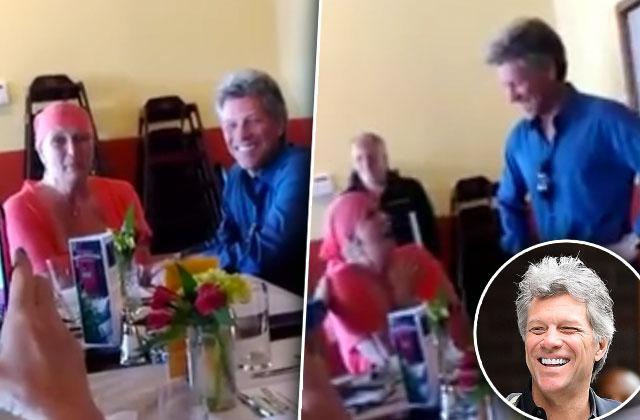 Wish upon a (rock) star! Jon Bon Jovi made a fan's cherished dream of meeting her favorite rock star come true with a very special visit RadarOnline.com has exclusively learned.
Carol Cesario, who's fighting Stage 4 lung cancer, went with her family to Bon Jovi's nonprofit restaurant in Toms River, N.J., for a dinner arranged by the singer.
"My mom's dream came true!" gushed Carol's daughter, Rosie Skripkunis, in a social media message.
Article continues below advertisement
"He invited our family to his restaurant for dinner and surprised her," said Skripkunis. "He spent almost two hours hanging out with her and just chatting with my family."
Bon Jovi gave Cesario, a fan for 30 years, some terrific presents: an autographed guitar, a book, a kiss on the cheek and a memorable private advance listen to his upcoming album, This House Is Not for Sale.
"Seeing my mom this happy filled me with so much joy," said Skripkunis. "What you did for our family is amazing, and we are so grateful. This has been one of the best days of our family's life … Jon is an amazing human."
The star's upscale dining spot, JBJ Soul Kitchen, is called a "Pay It Forward" community restaurant. It serves both paying customers and in-need diners.
Customers may "earn their meal" by volunteering at the restaurant, while paying diners can buy "Pay It Forward" certificates for at least $20 to help cover the costs of in-need meals. Bon Jovi, a New Jersey native, operates a second restaurant location in nearby Red Bank, N.J.
The star also runs the Bringing Everyone All Together (B.E.A.T.) Center in Toms River, a 12,000-square-foot facility that has culinary training programs for people in need and after-school programs for at-risk children.