Hillary's Lies EXPOSED Again!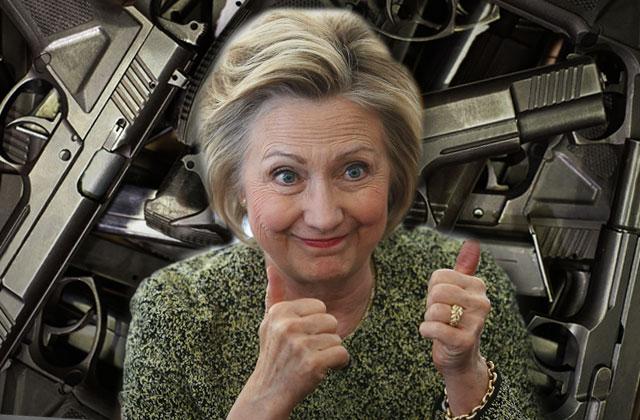 A new tell-all is tearing apart Hillary Clinton's secret life of lies! According to Crisis of Character, by Gary J. Byrne, she's a secret firearm fiend despite her position on gun control
The presumptive democratic nominee for president has pushed for stricter gun control laws and Donald Trump has called her "the most anti-gun, anti-Second Amendment candidate ever to run for office," according to The New York Times. So it might surprise voters that in Byrne's new book, Crisis of Character, he reveals that Clinton not only liked shooting guns, she showed a "maniacal" thrill for them.
Article continues below advertisement
Byrne, who served as a secret service officer during the Clinton administration, wrote that "The First Lady took a surprising liking to firearms, especially a Thompson submachine gun." The agent said he saw Clinton "let loose a spray of man-stopping .45 ACP rounds into the paper, dirt, and berms of our outdoor one-way range." He wrote that he expected Clinton to "erupt in a maniacal laugh."
Instead he just saw the First Lady "smile ear-to-ear," and claimed that if it wasn't for the Assault Weapon Ban, which was signed into law during the Clinton administration, then "she would've taken the Thompson home with her."
One of the most surprising moments was Byrne detailing Clinton's shots, writing that the bullets "zipped right into the target's crotch." This caused anyone around Clinton at the time to chuckle, turn away, or glance at her husband, Bill.
But Byrne also claimed he was intrigued with Clinton's ability to hold and shoot a gun properly. "I was impressed with that Mrs. Clinton pulled the stock of the rifle into her shoulder. Recoil can slam right into you, but she knew what she was doing."
Article continues below advertisement
In 2008 Clinton asserted her pro-gun stance while running against Barack Obama and cited her childhood as an influence for her supporting guns as a part of life.
"You know, my dad took me out behind the cottage that my grandfather built on a little lake called Lake Winola outside of Scranton and taught me how to shoot when I was a little girl," Clinton said, according to CNN.
She went on to say, "People enjoy hunting and shooting because it's an important part of who they are. Not because they are bitter."
Now, however, she has pushed for stronger gun control.