More Trouble For Hillary? FBI Director Hints At Probe Into Clinton Foundation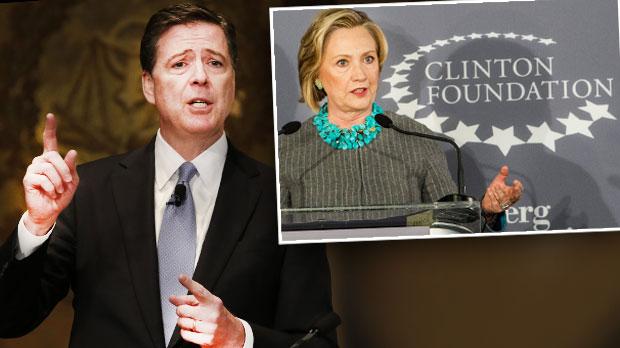 James Comey chose not to prosecute Hillary Clinton regarding her email server scandal, but recent comments from the FBI director may suggest that the bureau is actually investigating the Clinton Foundation.
Thursday, the FBI director faced down congressional Republicans who remained suspicious about Clinton's email use, despite his decision not prosecute the presumptive democratic nominee.
Throughout the hearing, Comey was grilled on the specifics of his investigation, including how long the bureau spent probing Clinton's emails and if her account was actually hacked.
Article continues below advertisement
Though Comey kept a relatively clam demeanor throughout the 4.5 hours of scrutiny, he revealed at one point that the Clinton Foundation might currently be under investigation as well.
When asked if the FBI was investigating the Clinton Foundation for its influence at the State Department, Comey refused to answer.
"I'm not going to comment on the existence or nonexistence of any other ongoing investigations," Comey said.
But committee Chairman Jason Chaffetz would not relent, following up with a question if the Clinton Foundation was "tied into" the email investigation.
Comey again refused to say.
Realizing his line of questioning would not go anywhere, Chaffetz moved ahead with the hearing, but some news outlets such as The Hill are interpreting Comey's silence as a sign.
Clinton spokesman Brian Fallon insisted on Bloomberg's With All Due Respect that "a no comment in that situation doesn't tell you anything." He added, "I personally have no knowledge to that effect and as someone who used to work at the Justice Department the normal practice is to not answer that question one way or another."
If the FBI are actually probing the Clinton Foundation, which has long been connected to shady donors and tax fraud then it would mean more trouble for the former secretary of state who is hoping to put any allegations of criminal activity behind her as she continues her bid for the White House.
Story developing.