Presidential Election 2016
Bernie Backs Hillary For President!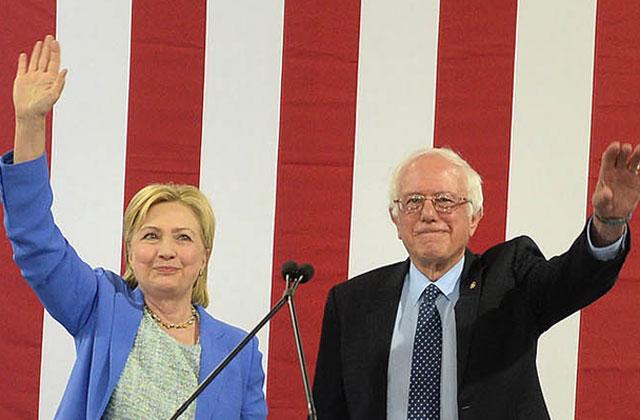 After months of resisting, Bernie Sanders has officially endorsed former rival Hillary Clinton for president. Only problem? He still isn't suspending his own campaign!
At a New Hampshire rally on Tuesday, Clinton's biggest opponent for the democratic nomination gave in and backed the presumptive nominee.
"Secretary Clinton has won the Democratic nominating process, and I congratulate her for that," Sanders said, standing next to a beaming Clinton. "She will be the Democratic nominee for president and I intend to do everything I can to make certain she will be the next president of the United States.
Article continues below advertisement
Though Sanders has yet to formally suspend his own campaign, it's highly unlikely he will take the nomination away from Clinton at the upcoming Democratic National Convention.
Many Sanders supporters have voiced their opposition to Clinton, refusing to vote for her regardless of her party stance. But Sanders made his own reasoning transparent on Tuesday.
"I have come here to make it as clear as possible why I am endorsing Hillary Clinton and why she must become our next president," Sanders said. "This campaign is not really about Hillary Clinton or Donald Trump or Bernie Sanders. This campaign is about the needs of the American people and addressing the very serious crises that we face."
He added that come November, "Hillary Clinton is far and away the best candidate..."
Do you think Sanders' sudden endorsement is sincere? Let us know in the comments!