Hillary Lookalike Earns $10,000 A MONTH Impersonating Clinton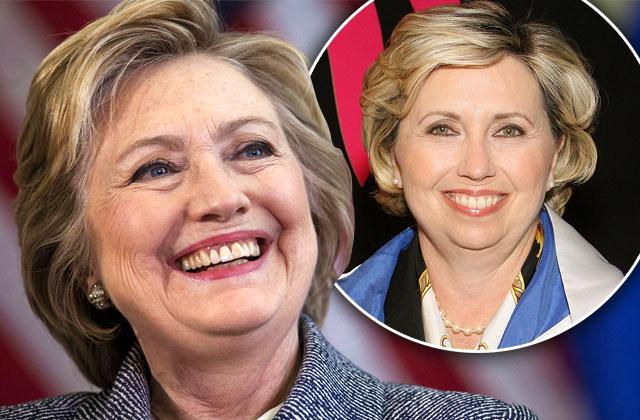 Call it a pantsuit payday! One woman has made a living impersonating Hillary Clinton, netting thousands each month because of it.
Teresa Barnwell may not be as funny as Tina Fey impersonating Sarah Palin on Saturday Night Live or as versatile as Jimmy Fallon imitating Donald Trump on the Tonight Show, but she looks so much like Clinton and that she has turned the resemblance into a lucrative career.
Article continues below advertisement
"Teresa Barnwell is America's best known and most versatile Hillary Clinton impersonator," Barnwell's website reads.
Barnwell has been pretending to be the presidential candidate since 1993, not long after Clinton became First Lady. Barnwell says her "uncanny resemblance and natural ability as an entertainer has taken her all over the United States and around the world."
The 61-year-old impersonator was first told she resembled Clinton over two decades ago when she was "playing a slot machine," The Daily Mail reported. "The change attendant guy came up and he said 'Hey you know if Bill Clinton gets elected you're going to get a lot of attention. You look just like his wife, Hillary.' And I was like 'Oh really, can I get some change?'" Barnwell told The Desert Sun.
Article continues below advertisement
Over the last twenty years, Barnwell has made appearances on the The Tonight Show with Jay Leno, The Nanny, and Mad TV. She even met the real Clinton at a book signing in Los Angeles in 1996, where she waited in line to meet the presumptive democratic nominee. When they two finally met, Barnwell joked to Clinton, "Hello Hillary, it's so nice to meet you. Has anybody ever told you that you look like Teresa Barnwell?"
But the real money started rolling in last year after Clinton announced her bid for the presidency. That's when Barnwell saw an upsurge in bookings and wound up making up to a whopping $10,000 a month.
It hasn't been glamor for Barnwell though. "Sometimes I get weird requests, like once I was asked to be a Hillary stripper, which I thought was pretty bad so I turned it down," Barnwell told The Daily Mail.
"I wouldn't want to damage either of our reputations," she said. "I don't think it would be right to portray Hillary in a particular way. I don't mind doing comedy or poking fun at her, but sometimes it can be too much."
With all the attention and fame gained from impersonating one person, Barnwell was asked if she would still vote for Clinton in the upcoming election. "Absolutely," she said. "A vote for Hillary in a sense is a vote for me!"