Presidential Election 2016
Hillary's Nightmare: New Book Tears The Lid Off Monica Lewinsky Affair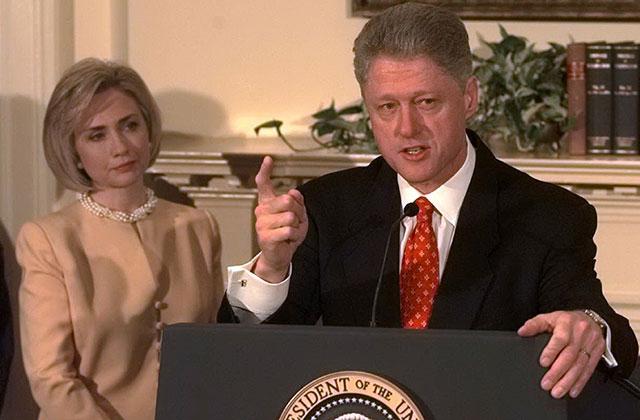 Once again, Bill Clinton's womanizing is putting Hillary's White House dreams in jeopardy! On the eve of her big DNC speech, a new book is finally exposing all the dirty details of the notorious Monica Lewinsky affair.
Inside The Clinton White House, by author Russell Riley, reveals a behind-the-scenes look at how Clinton staffers reacted to his many embarrassing scandals.
Bill's chief lobbyist and assistant, Lawrence Stein, said of the Lewinsky scandal, "It wasn't so much the morality of the situation itself… Clinton put his fortunes in the hands of a 21-year old, totally irresponsible child," The Daily Mail reported.
Article continues below advertisement
In the oral history, Riley, an associate professor and co-chair of the Miller Center's Presidential Oral History Program, revealed that one staffer Donna Shalala, was "furious" after hearing about the scandal.
"I think one of my staff came to tell me when the Monica Lewinsky story broke and I said, 'You're kidding,'" Shalala said. "And I remembered Lewinsky because during the shutdown of the government, she was outside in the Chief of Staff's office, sitting at one of the desks … I just couldn't believe it, couldn't believe it … Then I was furious. We were on a roll. We had a lot to get done."
Shalala, who served as the former Secretary of Health and Human Services, went on to say she "walked in and asked the president whether he had done it." According to the book, he told her "Absolutely not." Still, she said she was keenly aware of Bill's "woman problem" and told Riley she had thought he would never be president because of it.
Even before Bill took the presidency, when he was still embroiled in allegations of having an extramarital affair with Gennifer Flowers, he was told by friend and adviser Susan Thomases that if she "found him having sex on the campaign, he was dead," the book states, and that she would leave and take her staff with her if such an embarrassment unfolded.
Article continues below advertisement
Thomas's told Riley, "I said, 'If you're stupid enough to blow this whole Presidential thing over your dick. And if that turns out to be true, buddy, I'm going home, and I'm taking people with me If you don't have enough self control to keep yourself straight, then it's just dumb.'"'
The Daily Mail reported that the book claims "many in Clinton's administration found the recklessness of Bill's sexual escapades just too astonishing and heart stopping. He was willing to risk so much for his own sexual gratification."
Shalala even told Riley that she had contemplated resigning over Bill's exploits, but eventually told other Cabinet members that, "This is disgusting but we've got to keep going."
Even Al Gore turned on Bill after learning of his affair with Lewinsky, according to claims in the book. Joe Lockhart, the White House Press Secretary at the time, said that Bill and Gore stopped speaking with one another and Gore refused Bill's help when he made a bid for the White House in 2000. "Gore got it into his head that it wasn't enough to win the Presidency. He needed to win it on his own and without the help of the President," Lockhart said.
And while Hillary is now the democratic nominee, the then First Lady "moved away from being a powerful source of political advice and personal support to her husband after the disclosure of his relationship with Lewinsky," Riley wrote.