'You Don't Care!' Jules Wainstein Tears Into Bully Bethenny Frankel On 'RHONY'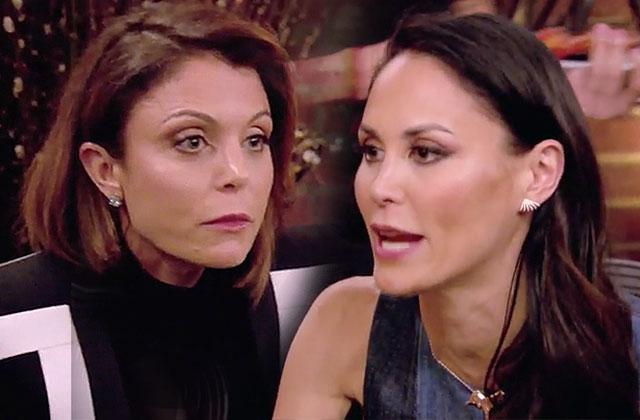 Dorinda Medley shows her true colors on this week's episode of The Real Housewives of New York City, revealing her skills in the art of meddling. In fact, costar Bethenny Frankel even dubs her Dorinda "Medler" Medley at one point — and meddle she does!
During an explosive dinner at Manhattan restaurant Joanne's, Medley displays her pièce de résistance after gossiping behind the other 'Wives backs under the guise of concern, friendship or what she's previously referred to as "mediation." It's basic mean girl behavior and very transparent, even for a reality show.
Article continues below advertisement
The episode begins with LuAnn de Lesseps storming out in a mad rage because Dorinda the Meddler has told her what Ramona Singer has been saying behind her back.
"Everyone is happy for me except for you bitches," the Countess says as she storms out. Singer attempts to do some damage control, texting her while the other girls continue to talk about the matter.
Meanwhile, another one of Medley's pots waits on the stove, and she's been stirring this one for quite some time. Finally, Jules Wainstein decides she's had enough of Frankel ignoring her vagina problems, the insinuations that she might not be the brightest bulb in the bunch, and Frankel's snarky comments regarding her weight.
She starts by defending de Lesseps, "Who cares. This is LuAnn's private life. Let her be happy. She's happy. Let her be happy."
"Because that's what friends to do," Carole Radziwill retorts. "They talk about their friends when they're not here."
"It's not a problem" Wainstein says with a pedantic chuckle, adding, "My friends don't do that."
"Yes they do," Radziwill says.
The "Big B" Bethenny then defends their gossipy behavior by saying that de Lesseps didn't care to ask about her medical problems: "I was bleeding out of every part of my body and she didn't ask me one thing about me. She didn't let me get a sentence out."
Article continues below advertisement
But Wainstein isn't letting anything go tonight: "No offense Bethenny, but it's the same thing with you. I had a problem and you never asked me."
They go back and forth about who texted who and who cared more. Finally Weinstein says, "This is really stupid."
Frankel comes back with a lame Forrest Gump throw-back "Well stupid is as stupid does."
That's when Weinstein loses it: "Well I'm not stupid, OK? I have to tell you this. And I'm really sick and tired of you portraying me as being stupid. I can't. It's not nice Bethenny. It's not."
Watch the Video on RadarOnline.com:
When Frankel brings up Wainstein's bizarre Calzone prank from a previous episode, Jules lashes out, "Your sense of humor is at other people's expense. My sense of humor is at my expense. Because I don't want to hurt people's feelings. And you make fun of other people because you don't care about other people's feelings."
Like a true mean girl, Frankel becomes very hurt by Wainstein's comment (mean girls never like to be told they are mean). Meanwhile, Wainstein has done what no other housewife has done before, and that's hold up a mirror to Frankel's harsh behavior.
Article continues below advertisement
Instead of being on the defense, Wainstein, uses the rare opportunity to tell Frankel what she really think of her. "I need a verb. I'm gonna need a verb. Verb, verb, verb," she mimics Frankel, reminding her of past abuses.
Still in shock, Frankel brings up how hard it is to be around Wainstein with her eating disorder, given her own mother's issues in the past. Wainstein vehemently defends herself, explaining that being honest and open about her disorder is how she gets better. The reality star also accuses Frankel of gossiping about her marriage troubles, which Bethenny vehemently denies.
On the other end of the table, Medley claims to have never said anything about the pair, but both Frankel and Wainstein know her to be the source.
"I'm upset with you," Frankel says after the shouting dies down.
"It goes both ways," Weinstein responds.
Medley then chimes in: "I'm not going to do more events obviously because it ends up like a sh*t show." What a surprise!