Luann de Lesseps Confronts 'Two-Faced' Ramona Singer And Slams 'Jealous' Friends On 'The Real Housewives of New York City!'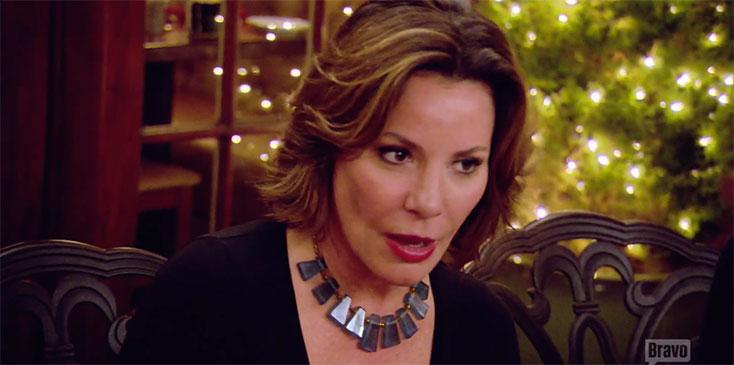 Well, not much has changed over the past six years for Countess Luann! Her nose-in-the-air-attitude and "self-absorbed" behavior has rubbed Ramona Singer and the rest of the housewives the wrong way for the last time.
De Lesseps is so in love with her boyfriend-turned-fiancé Tom D'Agostino that nothing can bring her down, except for Singer's gossiping. At Dorinda Medley's dinner party and futile attempt to reconcile the women, Luann confronted Ramona about the chatter she was hearing.
Article continues below advertisement
"If you're my friend, you defend me life a friend," Luann told Ramona. "Then don't talk sh*t behind my back."
"When you're here and you're feeling great, and you're in love, everybody tries to rip you down! All of my friends are happy for me except for you bitches! Why?" she demanded from the peanut gallery and ironically the only one to congratulate Luann on her fast love was "frenemy" Carole Radziwill.
Luann repeated, "I wish you would be happy for me," then stormed out of the Italian restaurant escaping the rest of Ramona's complaints.
Ramona had explained earlier to Bethenny Frankel that she doesn't "understand Luann's attitude." The B experienced Luann's bizarre rambling at drinks a week prior and agreed the behavior was "narcissistic and unlikable." Carole chimed in with claims Luann is a huge "phony" whose actions don't match her words. "I don't really trust anything she has to say to me," she added.
Article continues below advertisement
Ramona even complained to Sonja Morgan during a "hip" dance lesson that Luann is a different person who has ditched all her friends to only be with her boyfriend. "No one is really happy with her right now," Ramona declared.
Lady Morgan also decided to drop the I was "friends with benefits" with Tom for 10 years before Luann came along bomb at dinner which Luann brushed off ever so casually. "Nothing you can say will change my mind!" Lu said. "I don't care who f**ked who!"
Before the dinner, the ladies gathered at Bethenny's apartment to see how she was doing since the intense bleeding from her fibroids wasn't easing up. The Skinnygirl mogul admitted that her health issue was "bringing up family stuff" and she was extremely anxious about what could potentially happen to her daughter, Bryn, if things went south. "I'm very nervous," she confessed. "I'm so freaked out."
Article continues below advertisement
Frankel's emotions led her to another doctor who recommended she delay "the big deal" surgery and try some hormone medication. Bethenny revealed she wasn't feeling right about rushing into the operation so she postponed it for now.
As for the second medical emergency happening in New York City, we can all breathe a sigh of relief because Jules Wainstein's vagina is healing nicely and will be back to its "perfect pistachio" shape soon. She even visited her personal plastic surgery to make sure it was still aesthetically pleasing.
Crisis possibly averted yet again.
The Real Housewives of New York City airs Wednesday at 9pm ET on Bravo.