Donald Trump Jr. Accuses Obama Of Stealing His RNC Speech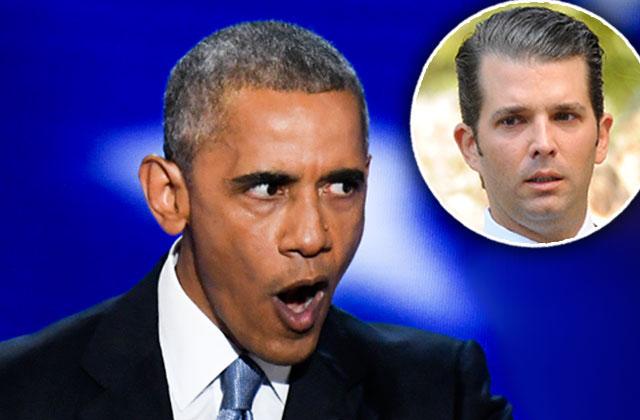 Article continues below advertisement
The allegedly plagiarized line is, "That's not the America I know." To put the quote in context, Trump Jr. said, "There's so much work to do. We will not accept the current state of our country because it's too hard to change. That's not the America I know."
Obama said, "What we heard in Cleveland last week wasn't particularly Republican and it sure wasn't conservative. What we heard was a deeply pessimistic vision of a country where we turn against each other and turn away from the rest of the world. There were no serious solutions to pressing problems, just the fanning of resentment and blame and anger and hate. And that is not the America I know."
The accusations from a plagiarism come a week after Melania Trump was slammed for lifting lines directly from Michelle Obama's 2008 DNC speech, though it was later revealed that it was the accidental mistake of the speechwriter and not Melania's error.
Though Obama has yet to reply to the allegation, this has marked a historic week on Twitter for Trump Jr. as he called out both President Obama and Anthony Weiner.
Weiner had said if Trump Jr. were to run for New York City mayor he would "come out of retirement just to beat him like a rented mule, and then I'd turn the keys back over to de Blasio."
Trump Jr. shot back at Weiner, tweeting, "Too soon Anthony!!! You probably shouldn't be talking about beating anything ever again." He then told Weiner, "Go back to your cave."