Exclusive
Revealed For The First Time Ever: The A-List Stars In Notorious Madam's Black Book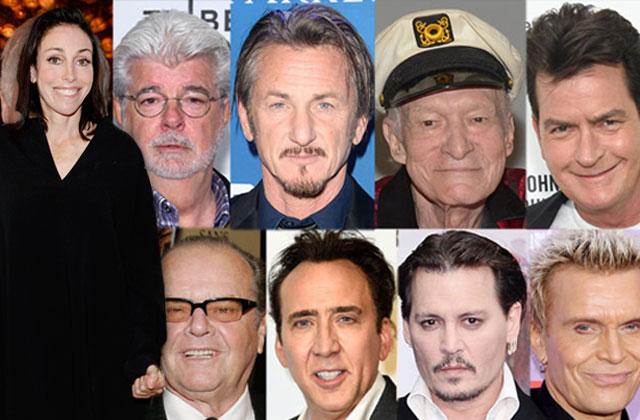 THE biggest secret in Hollywood for more than two decades has exploded. For the first time, RadarOnline.com has ripped wide open the infamous and long-feared "little black book" of top Hollywood madam Heidi Fleiss.
Fleiss' mysterious 28-page red Gucci planner — the talk of the Tinseltown since 1993 when the Hollywood Madam was at the top of her game — contains the names of actors, musicians, sports figures, movie producers, directors, agency execs and politicians.
Article continues below advertisement
Until now, the only name publicly identified was HIV-positive train-wreck Charlie Sheen, who acknowledged at the time he was a customer.
But RadarOnline.com has viewed — via multiple informants and sources — numerous pages from inside the sex dossier and can reveal a Who's Who of world-famous celebrities linked to Fleiss.
Those named include besieged actor Johnny Depp; "Star Wars" creator George Lucas; Hugh Hefner and his Playboy mansion; rocker Billy Idol; billionaire Steve Bing; O.J. Simpson defense attorney Robert Shapiro; movie producer Robert Evans; "Beverly Hills Cop" producer Don Simpson; and late businessman and international financier Bernard "Bernie" Cornfeld.
There are also numerous entries that could correspond to the rich and famous, including a mention of "Mario (Formula One)," which could indicate race car driver Mario Andretti and "Sultan Ben Abdul" — a likely mention of former Crown Prince of Saudi Arabia Sultan bin Abdelaziz.
There is NO SUGGESTION any of these men procured call-girls from Fleiss — however their names appear in her private journal that is floating around the shadowy underbelly of Hollywood, and has seen by multiple RadarOnline.com investigators.
Article continues below advertisement
"It is beyond shocking!" said a source who has seen the book's pages containing scribbled names, phone numbers and johns' sexual fetishes.
"When the full list of these names get around, it's going to cause a sensation — as well as the beginning of the end for many a celebrity's career!"
Fleiss once boasted: "These are the richest people on earth that I'm dealing with ... they'll pay $3 million on a hand of blackjack and have five hands going."
Fliess has long refused to detail her clients and did not provide the cavalcade of celebrities RadarOnline.com.
But at the Hollywood madam's 1995 felony pandering criminal trial, Sheen testified that he had ordered call girls from Fleiss on at least 27 times. (She was later tried in a federal court, where she was convicted of tax evasion and money laundering, and received a 37-month sentence.)
The former star of "Two and a Half Men" admitted to writing seven checks he said he gave to prostitutes between December, 1991, and February, 1993, including one for a woman he hired on Christmas Day!
Article continues below advertisement
The checks ranged from $1,500 to $3,000; most were made out to "cash," although one was made out to Fleiss herself.
Two other Fleiss' clients, actors Nicolas Cage and Sean Penn, both partied with Sheen and "up to 10 girls at a time," dished a source.
Other unnamed clients include a member of the 1980s Brat Pack, who "loved to suck on girls' toes," one of Heidi's former hookers recalled in an exclusive interview. "In fact, he'd request that we'd arrive with sweaty feet!"
Sheen especially liked 18-year-old girls — and was turned on even more when they dressed up like cheerleaders, an insider disclosed.
RadarOnline.com has learned others linked to Fleiss include megastars Jack Nicholson and Mick Jagger.
The Rolling Stone legend attended a bash held in his honor at Heidi's $1.6 million home, a source said, while Nicholson was also reported to be a Fleiss patron – and she "considered it an honor to serve him."
Whispered a Hollywood spy: "It's a wonder this has been kept under wraps for so long — and now that the book is out, how long will it be before careers are torched?"
For the biggest celebrity news stories of the day, controversies, crime, and other hot topics listen to our new podcast 'All Rise' below!