Muhammad Ali's Friend Tells All: His 'Secret Side' Exposed!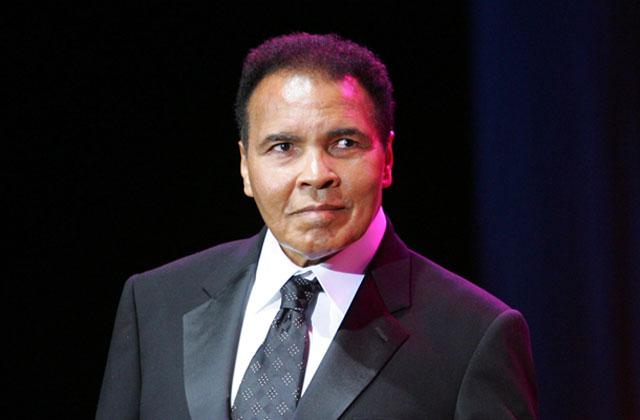 Muhammad Ali is known around the world as a champion, but those who knew him best say he was a living superhero! According to one pal, the boxing legend once saved a suicidal Vietnam vet from jumping off a ledge — and then he got the man a job and an apartment and stayed in touch with him for years.
That incredible act of compassion was no surprise to one of Ali's closest friends, photographer Howard Bingham.
Article continues below advertisement
"Ali has a secret side that nobody knows," Bingham told Radar in an exclusive interview.
Bingham – author of the book Muhammad Ali, A Thirty-Year Journey — revealed that the boxing champ also wrote a $100,000 check to keep an elderly community center from closing, secretly gave a diamond ring worth thousands of dollars to a little girl in a wheelchair and routinely gave $100 bills to impoverished people he met on the streets!
The photographer's friendship with Ali began back in 1962 in Los Angeles, when Bingham drove by the Sports Arena and saw Ali – then known as Cassius Clay – standing outside.
"I offered to show him around town," Bingham said. "I've been his friend ever since."
Many detractors only remember the boastful Ali who used to recite poetry and predict the round in which he would defeat his opponent. Or they remember the angry Ali who refused to fight in the Vietnam War and converted to Islam.
Article continues below advertisement
But through the years, Bingham has known another man.
"Ali is bold, brash and egotistical," the photographer recalls. "But he is also shy and incredibly generous."
In 1981, Bingham drove past a high-rise where a distraught Vietnam vet was threatening to leap to his death from the railing of a ninth-floor balcony … while the crowd egged him on!
"The thought came to me: 'Maybe Ali could talk this guy out of it!'" Bingham recalled. "I drove to Ali's house, picked him up and went back. The police had blocked off the building, but when they saw Ali, they let us go up."
"The vet just stared when he saw Ali. The champ put his arms around the frightened man, then pulled him back to safety saying, 'It's O.K. We love you. Everything will be fine.'"
"Over the next few days, Ali spent over $2,000 getting the man clothes, an apartment and a job. The poor fellow broke down in tears. He couldn't believe the heavyweight champion was helping him," Bingham said."
"He grasped Ali by the hands, tears running down his cheeks, and said: 'I spent years alone after returning from Vietnam. 'I became convinced that nobody cares whether I live or die, so I decided I would die – but you changed that for me. You have given me the strength to carry on,'" Bingham claimed.
Article continues below advertisement
Ali stayed in touch with the vet for years, Bingham said.
"The champ called him every few months. There's no doubt that Ali saved his life and helped him get a new start," he said.
Ali also had a soft spot for the elderly, Bingham explained.
"In 1975, we were in New York. Ali was watching the news on TV and a story came on about a Jewish community that was closing because it didn't have enough money."
"It was a place for older people, many of whom were handicapped. The next morning he insisted on going to the center." Bingham explained. "Ali gave them a check for $100,000 that enabled the center to stay opened. Many of the men and women in their 70s, 80s and 90s started crying while others clapped."
In his many travels, Ali frequently came across poverty-stricken people.
When he did, the once-poor kid from Louisville, Kentucky, would automatically reach into his pocket and start passing out cash – $100 to a homeless man in New York, a fistful of money to a destitute woman on the side of the road in Haiti and so on.
Article continues below advertisement
But he never sought publicity for his good deeds. Once at a tribute dinner in Las Vegas he secretly gave away a diamond ring he had just received as an award.
"The ring was encrusted with diamonds and was worth many thousands of dollars," he said. "When Ali was walking off the stage after receiving the award he passed a little girl sitting in a wheelchair."
"The girl's mother asked Ali if he would pose for a picture. Ali posed, hugged the little girl and kissed her on the cheek. Then he put the beautiful ring in her little hand and walked away!"
Even though the heavyweight champ was possibly the most famous man in the world at the time, Bingham said, he was down to earth and hated to offend anyone.
"Once, on a plane ride back from the Caribbean, I noticed a strong odor. I asked Ali about it and he looked embarrassed and said it was probably his socks," the photographer recalled. "He got up, went to the bathroom, washed his socks and hung them up to dry by the window next to his seat."
Later on in his life Ali began suffering from Parkinson's syndrome, a condition that causes tremors, slow movement and rigid muscles. Because of it, the boxing champ avoided the limelight.
Still, Bingham explained, Ali remained mentally sharp and devoted to helping "the cause of peace and racial harmony."
As Radar previously reported, Ali will be laid to rest on Friday at 2pm at KFC YUM! Center in Louisville, KY. At his own request, the service will "held in the Islamic tradition," will be open to all, and live-streamed around the world. Former President Bill Clinton will be delivering the eulogy.