Presidential Election 2016
Role Of A Lifetime! Meryl Streep Transforms Into Donald Trump At Gala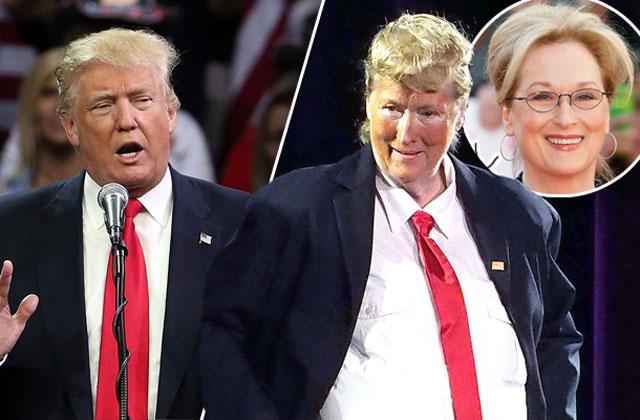 Meryl Streep just unveiled her most challenging role yet: Donald Trump.
At the annual Shakespeare in the Park Public Theater Gala Monday night Streep performed a musical duet with actress Christine Baranski. But there was one twist: Streep and Baranski were dressed as political rivals Trump and Hillary Clinton!
Streep, a staunch Clinton supporter, came out on stage almost unrecognizable, wearing Trump's suit and red tie next to Baranski's Clinton .
Article continues below advertisement
This isn't the first time Steep has portrayed a prominent politician. The actress won an Oscar for her role as British Prime Minister Margaret Thatcher in The Iron Lady.
But becoming Trump required a slightly different wardrobe choice than an it would to become an English stateswoman. Clad in a fat suit, orange face paint and an orange wig, Streep was transformed.
The Oscar winner sang "Brush Up Your Shakespeare" alongside Baranski and in the process used all the Trump mannerisms and motions she could muster.