Exclusive
Bosses From Hell? Mary-Kate & Ashley May Strike A Deal With Former Intern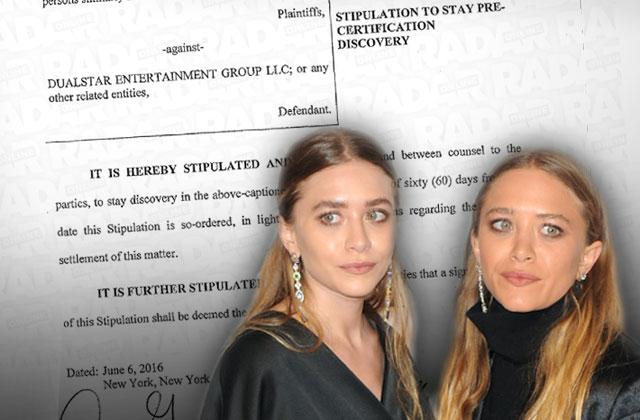 Mary-Kate and Ashley Olsen are negotiating with their former intern – who sued the twins' company accusing them of working their free labor to the bone – in an attempt to reach a confidential settlement in the case before either of them have to sit down for a deposition.
Shahista Lalani, who worked for Mary Kate and Ashley Olsen's Dualstar Entertainment Group filed a class action lawsuit in a New York court.
Article continues below advertisement
The ex-intern claimed that the Olsen twins' company had employed interns beginning in 2009 to the present date. She explained she worked for Dualstar from May 2012 to September 2012. Her duties as an intern covered everything from inputting data into spreadsheets, running personal errands for paid employees, organizing materials, cleaning, photocopying, sewing, and pattern cutting, among various other tasks.
She said she worked five days a week and nearly 50 hours per week. The woman claimed that none of the interns were paid a dime, and that they also did not receive any academic or vocational training, which is required by law for an internship.
The lawsuit blasted the Olsens' company for using free labor intend of hiring employees to complete the same set of tasks. The ex-worker for Mary-Kate and Ashley said their company committed unlawful conduct and caused the interns to be significantly damaged as a result of their actions.
Article continues below advertisement
However, new court documents exclusively obtained by RadarOnline.com reveal that the two warring parties may be reaching a settlement.
READ The Shocking Court Documents
The intern's complaint demanded that the Olsen's be held accountable for working their interns to the bone and pay all former and current interns minimum wage for the hours they put in with Dualstar. The woman filed the suit on behalf of everyone who had worked for free at the company past and present.
Mary-Kate and Ashley fired back at their former intern's legal battle. The twins explained that they never used free labor to avoid hiring paid employees to do the same job the interns did.
Further, the famous twins denied the allegations that they ordered the intern to complete tasks like running errands for employees, photocopying and sewing clothes for the company.
They even claimed the woman suing them is lying about working five days a week and 50 hours per week. The Olsens denied they did not provide vocational and education training for their interns at Dualstar.
Article continues below advertisement
Mary-Kate and Ashley said they did not violate any laws with their use of interns at their company and they did not act in a willful, wanton, reckless or malicious manner. They said they did everything by the books and therefore they demanded the entire suit be thrown out and the woman suing pay their attorney fees
The case has been pending for months with both parties preparing for a trial in the matter.
But RadarOnline.com uncovered new documents filed on June 6, 2016, that state Mary-Kate and Ashley, along with their former intern wish to stay discovery in the case. The famous twins are currently in negotiation talks with the woman to try and reach a settlement before the case goes before a jury.
The stay of discovery means any document requests, depositions etc. will be placed on hold for the parties to attempt and reach a settlement to end the legal battle once and for all.