Matt Roloff Filed Lawsuit Against Former Employer For 'Humiliating & Offensive' Treatment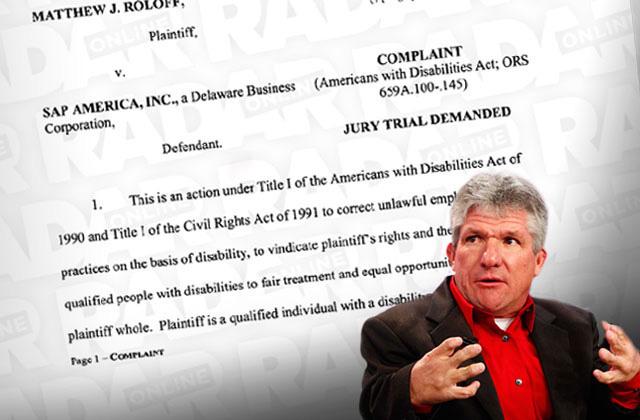 Matt Roloff is a beloved star on one of the longest running reality shows of all time. But before he found fame, the Little People, Big World patriarch was dumped from his job due to his disability, he claimed in a lawsuit obtained exclusively by RadarOnline.com.
According to U.S. District Court documents filed in 2004, Roloff, who was born with dwarfism, said his former employer, software company SAP America Inc., discriminated against him by "refusing to accommodate his disabilities and by terminating his employment due to his disability."
Article continues below advertisement
Though he requested services for his disability six months after his hiring, the then-sales solutions engineer was denied "reasonable" accommodations, he alleged.
"The failure by defendant to enter into a good faith interactive process deprived plaintiff of reasonable accommodations that would have enabled plaintiff to perform his duties more effectively and efficiently," his lawyers wrote.
In addition to being shut down by his superiors, the father of four, now 54, was allegedly taunted for his differences in a "humiliating" manner.
While visiting the company's Philadelphia offices, security guards demanded to know where he as going, citing fire safety, he recalled.
"Singling plaintiff out for different treatment based on his disability was humiliating and offensive," attorneys claimed.
He requested the court demand lost wages and health care expenses from SAP America, as well as new policies regarding equal employment.
The company denied Roloff's allegations, instead claiming he was fired for performance issues.
In 2006, a judge ruled in favor of the defendant, declaring that the business accommodated Roloff to the best of its ability.
This isn't the only lawsuit the Roloffs have been involved in. As RadarOnline.com previously reported, the TLC reality star and his ex-wife, Amy, sued their home state of Oregon in 2010 after a building services instructor allegedly trespassed onto their property and physically pushed the working mom. The case was eventually dismissed.