Exclusive
Gary Dourdan Slammed By Judge: You Can't Go Bankrupt!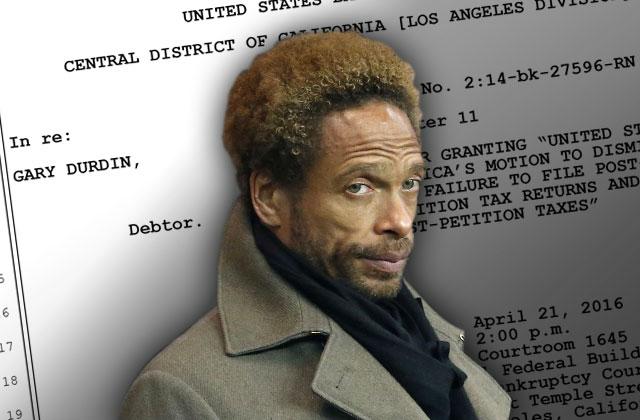 Ex-CSI star Gary Dourdan's legal and financial troubles have hit rock bottom as bombshell court documents exclusively obtained by RadarOnline.com show that a judge has ruled that his Chapter 11 bankruptcy was dismissed without clearing any of the actor's million-plus debt.
Dourdan — born and referred to in the documents as Gary Durdin — is now on the hook to pay back his many creditors, including his ex-girlfriend, whom he owes $110,000.
Article continues below advertisement
As RadarOnline.com reported, Dourdan filed for Chapter 11 bankruptcy in September 2014. At the time, he stated he had $988,000 in assets, but owed $1.46 million to creditors. His meager assets included $20 cash on hand, $1,000 in his savings account, $1,000 in household items, $1,000 in clothing and a $1,000 watch.
READ THE EXCLUSIVE COURT DOCUMENTS HERE
His debts included $949,000 owed on his L.A. home mortgage, more than $200,000 in back taxes, $1,400 to American Express, $626 to Time Warner, $4,368 in fees due to his criminal probation, $2,000 to a Marina Del Rey hospital, more than $2,000 for a storage unit and $130 for a traffic ticket.
The bankruptcy was pending for several months, with Dourdan providing his financial information and other documents in the case. However, the trustee in the bankruptcy recently filed a motion to dismiss the entire case because Dourdan failed to file his tax returns after filing the case. The trustee explained that the court required the actor to both file and pay any taxes accrued after he filed his bankruptcy.
Article continues below advertisement
According to the documents, the judge also ordered that the actor "shall be prohibited from the filing of a bankruptcy petition under any chapter of Title 11 of the United States Code for a period of 180 days following entry of this order."
Ready to get paid is Dourdan's ex-girlfriend, Nicole Cannizarro, who filed a lawsuit in 2012 against Dourdan for assault and battery. She accused him of attacking her at his apartment, punching her in the face and dragging her across the apartment. She claimed the actor beat her so badly, that her nose broke during the attack. Cannizzaro eventually obtained a restraining order and Dourdan was charged with felony assault and battery. She filed the original suit demanding unspecified damages. That suit was later dismissed.
The reason why? Cannizarro later claimed they had come to a private $110,000 settlement deal. She claimed in court documents that Dourdan was supposed to make two payments of $10,000, and then 36 monthly payments of $2,500 to her if she would dismiss all claims against him. But he never paid her, and she filed a lawsuit last year demanding that the bankruptcy judge not wipe clean the $110,000 owed to her.
On May 31,, 2016, the judge agreed. According to the documents, the Federal Court Judge granted the trustee's motion to dismiss the entire bankruptcy, meaning Dourdan must pay all his debts, including the $110,000 owed to his former girlfriend.
Story developing.