More Trouble For Ellen! New Claims DeGeneres Caused A Woman 'Distress' With Boob Joke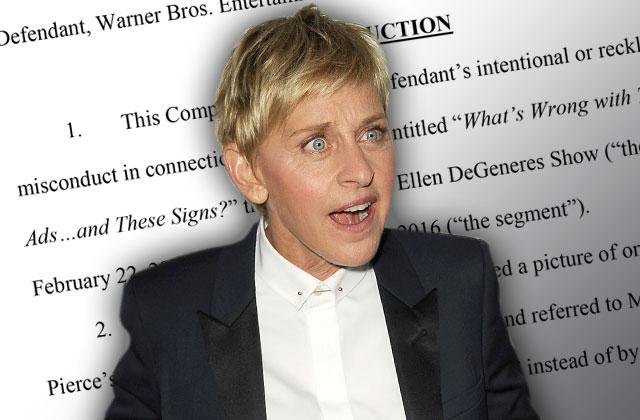 Could this be Ellen and Portia's breaking point? Amid crippling cheating and divorce rumors, DeGeneres is under fire for allegedly causing a woman "emotional distress" after featuring her on the show.
In the lawsuit, which was filed in a Georgia federal court on June 2, the plaintiff Titi Pierce describes that during a segment called, "What's Wrong With These Ads...and These Signs?" a sign for her real estate company was shown, uncensored, to millions of viewers.
Article continues below advertisement
As the ad filled the screen, DeGeneres, 58, proceeded to mock Pierce's name, calling her "titty."
Pierce claims in the suit that no one has ever pronounced her first name that way, and that DeGeneres did so intentionally to evoke humor — at her expense.
"In all of her 35 years of life, no one has ever referred to Ms. Pierce as 'titty' until Defendant did so on February 22, 2016, on national television. Prior to Defendant's misdeeds, Ms. Pierce had been called only by her name 'Titi,' which, as grammar dictates, is pronounced 'TEE TEE,'" the complaint obtained by RadarOnline.com reads.
To make matters worse, the woman claims, the show never bothered to blur out her personal cell phone number!
So when the show first aired on Feb. 22, Pierce claims she received a wave of harassing phone calls and text messages.
"Bahhh, your name is titty Pierce, Bahhh, Bahhh, titty, Bahhh, Ellen DeGeneres told me to call you, Bahhh," one of the callers allegedly said.
Another suggested she change her name while she also received a voicemail saying that her "size DD, 37 bra is ready," according to the lawsuit.
Article continues below advertisement
Ultimately, Pierce is suing for false light invasion of privacy, defamation, and misappropriation of likeness and intentional infliction of emotional distress. She is seeking an unspecified amount of money in damages.
"As a direct and proximate result of the Defendant's conduct, Ms. Pierce has suffered stress, emotional distress, embarrassment, humiliation, anger and other mental pain and suffering," the lawsuit states.
As RadarOnline.com previously reported, DeGeneres and her wife, de Rossi, have been hit with rumors of trouble in their marriage for months. They insist they're doing fine.
Story developing.