Exclusive
Married Man Chris Rock Gives Girlfriend A HUGE Rock! Secretly Engaged?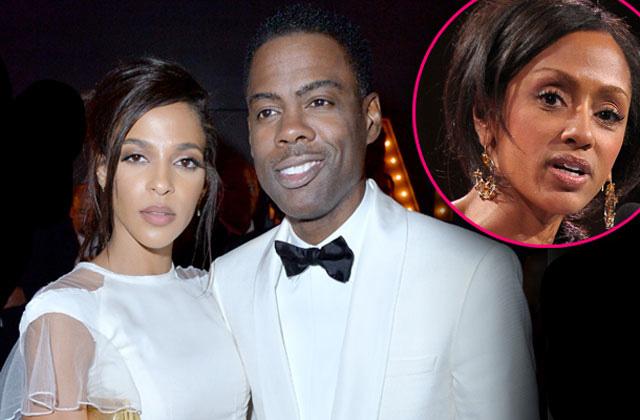 Comedian Chris Rock has put a dazzling ring on his girlfriend's finger — even though he's still legally married!
The smitten funnyman, 51, and sexy 33-year-old CSI: Miami star Megalyn Echikunwoke have lived together since April.
"Chris and Megalyn are deeply in love," an insider told Radar. "They're soul mates who plan to spend eternity together. I know it sounds silly, but it's true. They were born to be together." A rep for the comic insisted that he was not engaged and the ring is Echikunwoke's own. But they still seem to be going strong.
Article continues below advertisement
Only problem? Rock's divorce duel with wife Malaak Compton is still raging, with no clear end in sight.
The Grown Ups star reportedly separated from Compton, 47, nearly four years ago. However, he didn't officially file for divorce from the mother of his children, Lola, 13, and Zahra, 12, until December 2014.
The already nasty split took an ugly turn last summer, when it was revealed that the couple prenup had expired during the course of their 19-year marriage, and Rock's gargantuan $70 million fortune is now on the line.
The struggle for that sizable sum continues. But is Rock the marrying kind?
In 2004, he shamelessly spilled to shock jock Howard Stern that after a sizzling one-night stand, a woman conned him into believing he had gotten her pregnant!
Rock also divulged to Stern that he was even forced to pay the woman a small fortune, and it was not until later that the comedian learned that the same woman was conspiring with a man with the intent to scam African-American celebrities out of money, in a case being investigated by the FBI.
The actor even compared the woman's sexual prowess to a top professional basketball coach, proudly exclaiming to Stern, "This girl was the Pat Riley of sex! She can get a performance out of you that you didn't know you had!"
But despite Echikunwoke's new bling, a source close to the famous funnyman admitted to Radar, "Chris just isn't the kind of guy who should be married."
Do you think Chris Rock is justified in his romantic exploits despite him still being a married man? Sound off in the comments below!