Charlie Sheen's Lies Exposed! Actor Insists He Didn't Use Condoms Just 'Twice'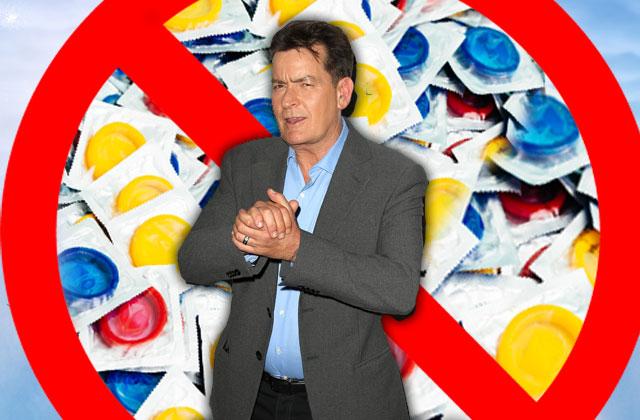 Despite years of substance abuse, wild sex parties and other shocking behavior, Charlie Sheen swears that he wore condoms during sex nearly every time and he caught HIV because of his incredibly bad luck.
The actor claimed in a new interview that he had unprotected sex "a couple of times. Twice."
"I was always the guy that promoted it and said you've got to use condoms, this and that," he insisted.
Sheen said he became HIV-positive after he "was too drunk or too bored one night" to wear protection "and here we are."
Article continues below advertisement
However, Sheen's former fiancée Brett Rossi may disagree with Sheen's statements that he was virtually always careful. She recently accused the actor in a lawsuit of intentionally exposing her to HIV.
Sheen's lawyer countered that Rossi knew of his his client's HIV status and that "she was the one who insisted upon having unprotected sex with Sheen 'like a normal couple.'"
Sheen's latest revelations may just be part of his latest desperate scheme to make money. As RadarOnline.com reported, the disgraced actor, who's famously slept with over 700 women, has launched a new condom line with LELO.
"Shouldn't a guy with five kids, a granddaughter and HIV be buying condoms and not selling them?" Sheen asked while talking about his new gig. "But it does kind of make perfect sense. I don't know if there is a better 'spokesperson' past, future and present to talk about the importance of condoms and the stigma they've had for so long."
Sheen, 50, said in the new interview that he's happier since his HIV diagnosis because his "life is more fluid, it's more courageous, it's more heroic."
Whether true or not, Sheen admitted his status has caused issues in his love life and he's reportedly been abstinent for seven months — though not necessarily by choice.
"HIV is not the best pickup line," he said. "So it has happened as a result of everybody else and myself having the knowledge, and that's fine."