HIV Positive Charlie Sheen Now Selling Condoms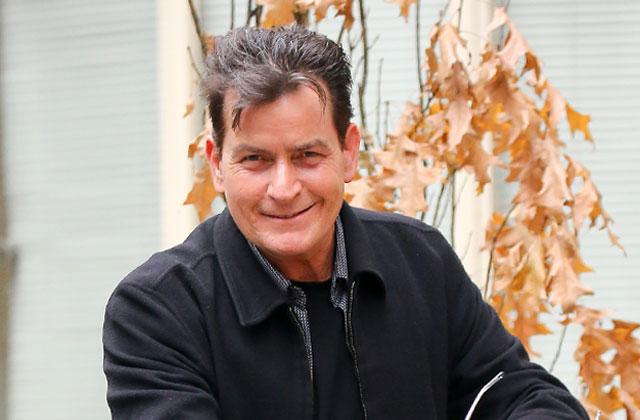 Charlie Sheen has been accused by his ex-lovers of shunning protection but now the HIV-positive star is actually selling condoms and touting the benefits of safe sex.
The 50-year-old actor revealed that much has changed for him since Radar broke the news that he was HIV-positive, and told EXTRA about the drastic measures he has taken to live a longer life.
"Exercise, diet… don't go on benders anymore, don't drink as much," Sheen told AJ Calloway about his new regime.
Article continues below advertisement
His ex-fiancée, Brett Rossi, filed court papers that claimed the actor did not reveal his status to her and that he exposed her to HIV intentionally. Bree Olson claimed that Sheen would only use lambskin condoms and she feared her health was compromised by that choice.
Now working with LELO to launch a new condom line, Sheen even joked about why he is now a proponent of the protection.
"It is the first change to the condom both the appeal and technology in 70 years. Shouldn't a guy with five kids, a granddaughter and HIV be buying condoms and not selling them, but it does kind of make perfect sense. I don't know if there is a better 'spokesperson' past, future and present to talk about the importance of condoms and the stigma they've had for so long," he told EXTRA.
Sheen revealed that he has had sex with the LELO condoms. "It's amazing, it's almost like there's nothing between you and the moment."
Expert sexologist Barbara Carrellas told Radar that Sheen's prior decision to only use lambskin condoms left his partners especially vulnerable.
"Lambskin condoms don't protect you from STDs," the safe sex specialist explained. "If you're with someone who has HIV, you don't want to use them."
Article continues below advertisement
Carrellas explained to Radar why the condoms were not as safe as latex ones.
"There are microscopic holes in lambskin condoms.Sperm doesn't get through them but viruses and bacteria do."
Still, Carrellas said that transmission rates depend on the person's "viral load."
The load, she told Radar, is the amount of the virus that's in someone's system. It varies depending on whether or not the person is on medication.
"The chances of contracting HIV depends on their partner's viral load," said the sex expert. "It's all very individual." Sheen has said his viral count is very low, and undetectable by most tests.
Carrellas believed that the sex-crazed actor's alleged use of lambskin condoms is inexcusable.
"If it's true, that's irresponsible," she told Radar. "He was misinformed and put peoples' health at risk by using lambskin condoms."
Article continues below advertisement
An exclusive audio obtained by Radar revealed that Sheen admitted to an ex-lover that he did not inform her of his HIV status.
The woman who recorded the conversations blasted Sheen, saying: "Why did you tell me you were not infected?"
The man on the tapes, clearly Sheen, screamed in reply: "Because it's none of your f—ing business, OK!"
After a departure from traditional medicinal practices, Sheen admitted that he is taking part in an FDA trial study for a drug called PRO 140.
"I'm one of the guinea pigs, I just finished week eight, and as opposed to a daily cocktail of a combination of pills that have a lot of nasty side effects, this is one shot every week… I don't have the migraines, the stomach problems… I seriously believe this is the future of treatment for HIV."
"It was the combination of a lot of the self-loathing a lot of the shame behind it that I just wanted to keep myself divorced from reality… I just woke up one day and said, 'I deserve better.'"
With his trademark wit, Sheen explained why he is never planning to get married again. "There's nobody special right now. I'm not dating. I got my hands full with dealing with my health, taking care of my family. I think I'd sooner walk on the moon in exactly what I'm wearing then head back to the altar… When you're terrible at something, why keep doing it… I'm 0 for 3."
What do you think about Charlie's new job selling condoms? Sound off in comments below.