Exclusive
Did Nick Kill Bobbi Kristina? Bobby Brown Reveals New Theory About Daughter's Tragic Death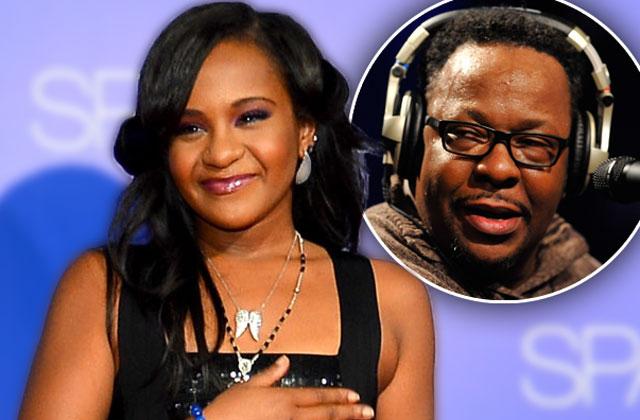 Did Bobbi Kristina Brown's boyfriend Nick Gordon really kill the troubled star, as her family alleges— or was something else responsible for her mysterious death?
In a copy of his shocking new tell-all, Every Little Step: My Story, obtained exclusively by RadarOnline.com, Bobbi Kristina's grieving father, Bobby Brown, reveals what he believes could have caused his daughter to fall unresponsive when she was discovered in the bath on January 31, 2015.
Article continues below advertisement
The New Edition singer, 47, claims that Bobbi Kristina's car crash, not Nick's alleged beatings, may have led to her tragic passing.
"While we weren't discounting the possibility that Nick had something to do with Krissi's incident in the bathtub, we also wondered whether the car accident she had been involved in just four days before she was found in the bathtub might have had something to do with her brain injuries," Brown writes in his memoir, adding that the then 21-year-old lost control of her Jeep and hit a Ford Taurus head-on, causing the other driver to suffer serious injuries.
Though her best friend, Danyela De Silva Bradley, then 18, was also hospitalized, Bobbi Kristina walked out unscathed. But was Bobby's beloved "Krissi" really okay?
"We asked the doctors whether she could have suffered some type of brain trauma or hemorrhage that didn't present itself until four days later, resulting in the bathtub incident," he continues. "But the doctors couldn't really give us definitive answers."
Article continues below advertisement
As RadarOnline.com has reported, the 41-year-old male victim slapped Bobbi Kristina with a $730,000 lawsuit months after the Georgia accident on July 1, 2015.
However, the aspiring singer had already been in a coma for five months at that point. (The lawsuit was ultimately dismissed, RadarOnline.com exclusively reported.)
Bobbi Kristina died while in hospice care on July 26, 2015 at just 22 years old. According to the Fulton County Medical Examiner's autopsy report, her death was caused by immersion in water and mixed drug intoxication.