Autopsy Shocker: Bobbi Kristina's Body Weighed Just 93 Pounds, Was Covered in Scars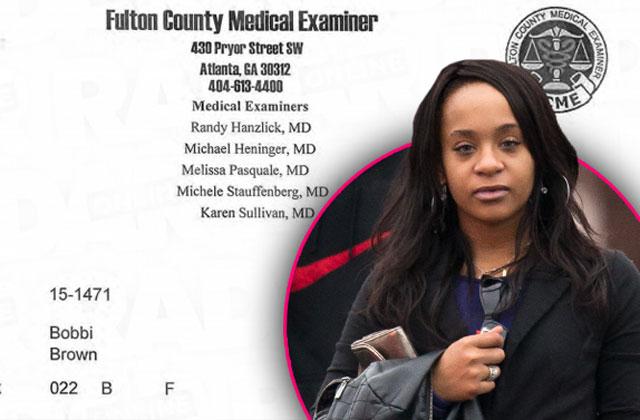 Finally, seven months after her tragic death, the Fulton County Medical Examiner has released Bobbi Kristina Brown's autopsy report.
As RadarOnline.com reported, the 22-year-old daughter of Whitney Houston died from lobar pneumonia, caused partially by the immersion of her face in water and mixed drug intoxication.
But now, RadarOnline.com has obtained the full autopsy report— and the revelations are shocking.
Article continues below advertisement
During the July 27, 2015 examination, doctors discovered that Brown's 5'6" body weighed just 93 pounds.
"The decedent has a thin build, and is….under-nourished," the report states.
Her body was also covered in "well healed scars" on her head, neck, torso and extremities.
Examiners found at least four scars on the right side of her neck, multiple scars on the left side of her neck, and eight on her chest.
MORE ON:
Bobbi Kristina Brown
Ten scars were discovered on her left arm, and four on her right arm.
READ THE SHOCKING AUTOPSY REPORT
The young star, who had sworn she was clean and healthy before she was discovered unconscious in her bathtub on January 31, 2015, had abused a number of dangerous substances.
She had used cocaine, marijuana and sedatives, and doctors found morphine in her system.
"Morphine is a drug produced from the metabolism of many opiate compounds including heroin," the report reads.
Doctors listed the manner of death as undetermined, meaning it could have been intentional or accidental.
As RadarOnline.com revealed in October, Brown's conservator slapped her boyfriend, Nick Gordon, 20, with a lawsuit claiming he killed the young star by injecting her with a "toxic mixture" and placing her unconscious in a bathtub following a "violent altercation."
Brown died six months after the tragic incident with family by her hospital bedside.