Exclusive
Poor Little Rich Girl! Amber Heard Makes Up To $120K A Year, But Is Bleeding Cash!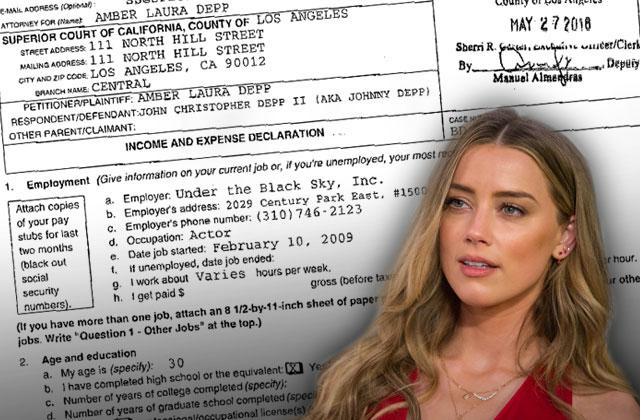 Amber Heard makes roughly $120,000 per year, but is losing money at a startling rate, according to financial documents filed in her ongoing divorce.
Court documents obtained by RadarOnline.com show that Heard claims to make an average of $10,000 per month from her various business interests. And while she does admit to having $25,000 in savings, she said she spends $43,7000 on basic expenses, including $10,000 per month for "entertainment, gifts and vacation," $10,000 on rent, $2,000 on clothes, $2,000 on eating out, and more.
Article continues below advertisement
According to the documents, she is paying her attorney, Samantha Spector, $550 per hour to represent her in the nasty divorce from Depp. As RadarOnline.com reported, court documents reveal she has asked Depp to give her $100,000 towards her bills, and to pay her attorneys fees in total when the split is finalized. She also wants spousal support.
READ The Tell-tale Financial Documents
The documents filed in court today show an in-depth look at just how she makes her money. According to the papers, Heard is still bringing in residuals from her work on The Cleveland Show, The Rum Diary, Machete Kills, and more. They claim she made $10,505.40 this year for Magic Mike XXL residuals alone. But while she made more than $26,000 this year so far, the paperwork claims she's already spent more than $55,000 on professional expenses related to her production company.
And last year, she raked in more than $250,000, including $120,000 from Tiffany jewelers, and $50,000 from Bulgari jewelers, according to the paperwork. But her business expenses were $209,000, the documents claim, leaving her just a few thousand out of the red.
Heard has asked a court to force Depp, 52, to pay her emergency support, but his attorney has insisted that Heard, 30, can support herself until the divorce is finalized.