Melania Trump Fires Back At Chris Matthews For Creepy Comments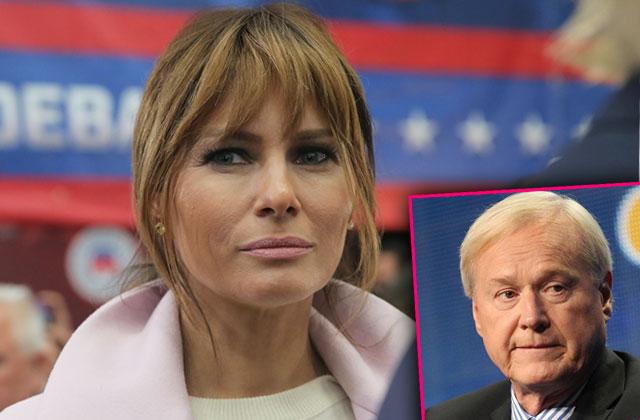 Melania Trump is proving she's hardly a silent bystander in this presidential race! Donald Trump's wife and potential first lady let loose a fiery rant at Chris Matthews and the Clintons in a revealing new interview with DuJour.
As RadarOnline.com reported, Melania made headlines recently when Matthews was caught on a hot mic making creepy comments about Donald's leading lady.
Closely watching Melania leave the podium after one of her husband's speeches, Matthews commented, "Did you see her walk? Runway walk. My God, is that good." Though his co-anchor Brian Williams, tried to cut to commercial break, the MSNBC host continued on.
Article continues below advertisement
"I could watch that runway show," he said.
When asked about Matthews' comments, Melania only had one word in response.
"Unbelievable," she said. The former model was adamant that she wants to be treated as an intelligent businesswoman, and not simply a pretty face. Matthews' remarks made her emphasize that point.
"That's what I'm saying! I'm not only a beauty, I'm smart. I have brains. I'm intelligent," she said.
In a statement to Matthews, Melania's spokesperson also highlighted this aspect of her life: "Melania Trump is an accomplished businesswoman and entrepreneur in her own right, achieving tremendous success in a variety of industries, including an illustrious modeling career, as well as being a dedicated wife and mother," the spokesperson told Variety. "It is unfortunate to see the continuous inaccuracies and misrepresentations made by the media of Mrs. Trump as anything less than the independently successful woman that she is."
Article continues below advertisement
Milania concluded that this was just the way of the world: "I would just say, Men will be men."
But Matthews wasn't the only one on the receiving end of her criticisms. The 46-year-old claimed that when she and Donald were married in 2005, that the Clintons never gave them a wedding present!
Although they attended the wedding, "I don't think they sent a gift," she said. "Some people didn't send gifts."
Melania also revealed a strange recollection about Michael Jackson, saying the late pop superstar had once asked her to make-out with him.
During one encounter, "Michael said to me, 'Hey, when Trump comes back, let's start kissing so he will be jealous!'" she claimed. The two did not end up kissing, but Melania said they were "laughing so hard."