Exclusive
Breaking News: Kardashian Church Caught In Tax Scandal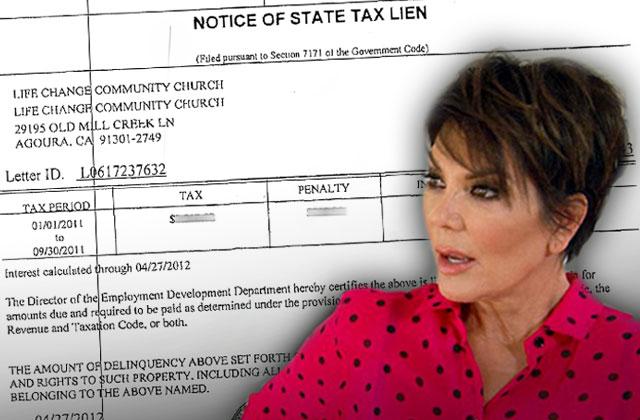 Little is known about the inner workings of Life Change Community Church, the mysterious church founded with the support of Kris Jenner and frequented by her extended family. Although the Kardashians have claimed to have donated thousands to the organization over the years, their financial records have never been made public — until now! RadarOnline.com has uncovered government documents that reveal that the church management failed to pay thousands in taxes in its early years, and was subsequently hit with liens from the state government.
Article continues below advertisement
Founded as California Community Church in June 2008, the organization was briefly known as the Life Change Community Church in 2010 and 2011, according to California State Department records viewed by RadarOnline.com. And around that time, records suggest, they stopped paying some of their taxes.
On April 23, 2012, Life Change Community Church was hit with a lien for $1,601.93 in unpaid taxes covering the period of October 1, 2010, to June 30, 2011. Just a few days later, they were hit with a separate filing that listed $2,012.82 in unpaid taxes, plus interest and penalty fee for a total of $2,293.74. That lien covered a period up until September 30, 2011.
The church paid up and both liens were individually released by July 10, 2012.
As a not-for-profit religious organization, the church is not obligated to pay some state and federal taxes. However, it is obligated to pay taxes related to payroll expenses. Some churches participate in voluntary audits, the results of which they make public. Life Change does not.
As RadarOnline.com has reported, Kim Kardashian has often made Life Change the beneficiary of her successful eBay charity auctions. In 2014, she funneled at least $21,303 to Life Change, according to the 2014 IRS 990 form for Paypal Charitable Giving Fund, the company that handles distributions of proceeds from eBay charity sales. In 2013, she sent Life Change $44,917, and in 2012, $19,975.
It is not known what efforts such donations fund.
Story developing.