Melissa Rivers Settles Medical Malpractice Lawsuit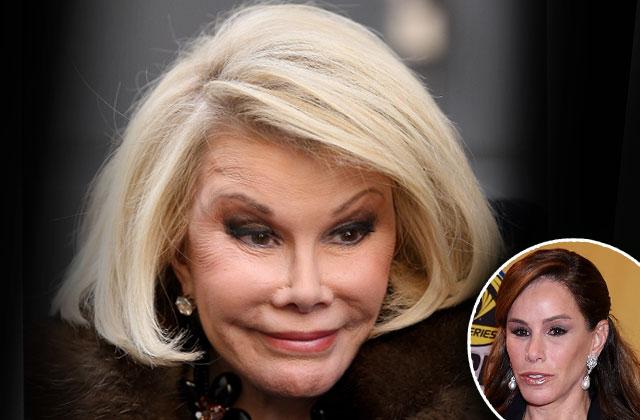 Melissa Rivers reached a settlement reportedly for millions against the doctor's office and the physician that were operating on her mother, Joan Rivers, when she tragically died after a botched operation in 2014.
The comedienne had an emergency during a routine surgery at the Yorkville Endoscopy clinic and her daughter sued both Dr. Gwen Korovin and the office.
"In accepting this settlement, I am able to put the legal aspects of my mother's death behind me and ensure that those culpable for her death have accepted responsibility for their actions quickly and without equivocation," Rivers said in a statement on Thursday.
Article continues below advertisement
The shocking death of her beloved mother left Melissa to fight back after Dr. Korovin's botched involvement and she reportedly received millions in the case.
"Moving forward, my focus will be to ensure that no one ever has to go through what my mother, Cooper and I went through and I will work towards ensuring higher safety standards in out-patient surgical clinics. I want to express my personal gratitude to my legal team for their wise counsel and prompt resolution of this case.
As RadarOnline.com exclusively reported, the documents surrounding the case showed a blatant cover-up of the disastrous events.
According to reports filed by New York's Department of Health and Human Services and the New York City Medical Examiner's Office, it was determined that "The ear, nose and throat doctor who performed two unsanctioned procedures on Rivers, Dr. Gwen Korovin, was never listed in the medical record — and her identity may have remained a mystery except for a random note penned by the anesthesiologist! Korovin denies any wrongdoing."
Also in the documents: "When contacted by the city medical examiner following Rivers' death, Dr. Korovin initially ducked calls. When she finally responded, it was only through a lawyer."
Melissa's lawyers released a statement about the case.
"While we know that no amount of money will compensate Melissa Rivers and her son Cooper for their loss, we are pleased that the case has been resolved. We worked tirelessly to ensure that appropriate compensation was paid on behalf of those responsible for Joan Rivers' death. In keeping with Melissa's wishes, we will continue to work with the Rivers' family to ensure that appropriate safeguards and higher safety standards are put into effect in all ambulatory surgery centers to protect the health, safety and well-being of all patients and to prevent such a tragedy from ever happening again. We have agreed to keep the terms of the settlement confidential to make certain that the focus of this horrific incident remains on improved patient care and the legacy of Joan Rivers."