Exclusive
Charlie Sheen Sued For 'Stabbing' Incident & 'Assault' At Dental Office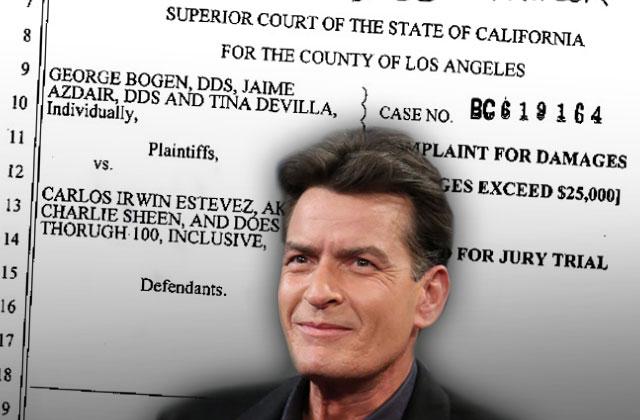 Charlie Sheen was just hit with yet another legal setback: RadarOnline.com has learned that he has been sued by three dental office employees in conjunction with a 2014 incident.
George Bogen, Jaime Azdair, and Tina DeVilla sued the star in California today over claims he melted down during an appointment on September 25, 2014, at Dr. Bogen's L.A. Office. Azdair was there to assist Bogen, and DeVilla was the receptionist.
Article continues below advertisement
"After first being placed in the dental chair … Sheen ripped off the nitrous oxide mask, jumped out of the dental chair, and began yelling verbal obscenities and threats," the documents claim.
Later, "Sheen again acted out without warning or provocation, and physically assaulted and battered the assistant, who ran screaming into the reception area … and then began verbally threatening to kill Bogen and Azdair, and the dental assistant, ultimately lunging at Bogen and Azdair with a knife, attempting to stab and kill them, and repeatedly stabbing the examination chair in a menacing manner…"
They're accusing him of assault, intentional infliction of emotional distress and negligent infliction of emotional distress, and want a jury trial to award them more than $25,000.
Another employee, Margarita Palestino, previously sued him over the alleged incident in October 2014, but dropped the lawsuit in November 2015 amid reports she settled.
Palestino had alleged he was "high" but Sheen's rep insisted he simply had a "bad reaction" to the dental drugs.