Camille Grammer Accuses Ex's Lawyers Of Botching Polygraph Test Results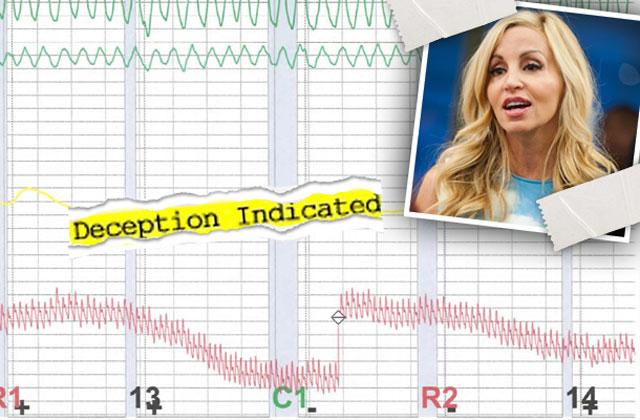 It's the lawsuit that just won't end! Camille Grammer continues to go through the legal ringer this week, with her ongoing court drama regarding ex-boyfriend, Dimitri Charalambopoulos, heating up.
As RadarOnline.com reported, Grammer's estranged lover of two years sued her for defamation, claiming she made up the story that he beat her up in a Houston hotel room in 2013 while she was recovering from cancer-related surgery.
Article continues below advertisement
In response, Grammer countersued for battery, insisting she was telling the truth. She even asked courts to throw out the case because she had never named Charalambopoulos to the public.
In the latest tit-for-tat, Charalambopoulos sat down for three polygraph exams regarding the night of the alleged incident, and although he passed them, Camille's lawyers have now called the results into question, claiming there may have been some trickery involved.
"After three test charts were administered an analysis of the charts was made and in my professional opinion Mr. Charalambopoulos is being truthful in all his answers to the relevant test questions," Joe D. Morris of a Texas polygraph services facility wrote to Dimitri's lawyer, Kirk Lechtenberger. "I would conclude based upon Mr. Charalambopoulos' polygrams that he was being verbally abused by Camille Grammer at the Zaza Hotel in Houston, Texas, on October 16, 2013."
MORE ON:
Dimitri Charalambopoulos
Article continues below advertisement
"I can also conclude from the test charts that Mr. Charalambopoulos never hit Ms. Grammer and he left the hotel in fear that Ms. Grammer would lie to the police about the incident," Morris continued.
However, Camille's lawyers quickly opposed Morris' results, citing that the test documents proved deception was, in fact, indicated during Charalambopoulos's polygraph, despite his seemingly absolving overall score.
What's more, the RHOBH star's legal team noted that Morris' test questions were ordered unconventionally, placing two control questions between each relevant question.
During a recent hearing, court witness Livia Liu Francis, a Texas lawyer, revealed that some polygraph tests are less reliable than others, especially if test questions are tweaked for optimal results .
"There may be some polygraphers that are much more qualified than others. Those that are less qualified, you do become more suspicious of the result versus maybe someone whose reputation is much more credible than others," the local attorney testified on the matter, though she was unfamiliar with Morris' reputation.
Meanwhile, according to a recent report, Camille told her psychiatrist that ex-husband Kelsey Grammer abused her during their marriage !
During court proceedings, Charalambopoulo deposed psychiatrist Bethany Tucker, who claimed Camille told her about "an incident where Kelsey Grammar grabbed her arm or injured her shoulder," says the Daily Mail, which claims to have seen the deposition.
Kelsey's rep told RadarOnline.com, "We have never commented on her public comments and do not intend to start now."