'Abuse' Bombshell! Camille's Doc Claims She Said Kelsey 'Injured Her' During Marriage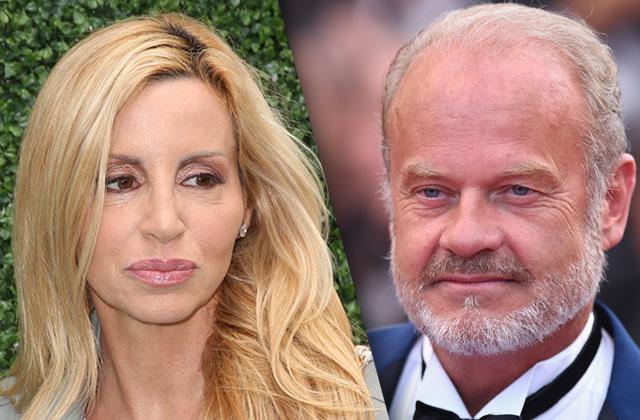 Camille and Kelsey Grammer's divorce was finalized nearly four years ago, but RadarOnline.com can reveal that the biggest bombshell yet has just emerged: According to a new report, the former RHOBH star told her psychiatrist that Kelsey abused her during their marriage!
The explosive claims have surfaced as part of Camille's legal issues with her ex, Dmitri Charalambopoulos. She accused him of assaulting her in 2013. He claimed she made the whole thing up, and sued her for defamation. He deposed her psychiatrist to find out what she said behind the scenes.
Article continues below advertisement
But beyond discussing Camille's relationship with Charalambopoulos, the Daily Mail claims that psychiatrist Bethany Tucker told attorneys that Camille said she was verbally and physically abused by her TV star ex, Kelsey!
Tucker brought session notes to her deposition, which included her observation that Camille was "realizing the abuse she took from Kelsey and how it affected her," the report states.
"Sometimes she felt she had … some verbal abuse," the notes allegedly said.
Tucker even claimed Camille told her about "an incident where Kelsey Grammar grabbed her arm or injured her shoulder," says the Daily Mail, which claims to have seen the deposition.
Kelsey's rep told Radar, "We have never commented on her public comments and do not intend to start now. "
Tucker's deposition transcript was filed on Friday as part of an attempt by Charalambopoulos to make Camille share her medical records and divorce papers from Kelsey.
Article continues below advertisement
Tucker has so far refused to share the files, but did admit that she prescribed Camille Klonopin in 2011, while her divorce from Kelsey was ongoing.
And after the incident where she claimed Charalambopoulos assaulted her at Houston's ZaZa Hotel, in October 2013, Tucker reportedly said she prescribed Effexor, and Lexapro since Camille was suffering from PTSD and anxiety, and expressing suicidal thoughts.