Exclusive
Camille Grammer's Ex-Boyfriend Ratchets Up Court Battle, Slams Her In New Court Filing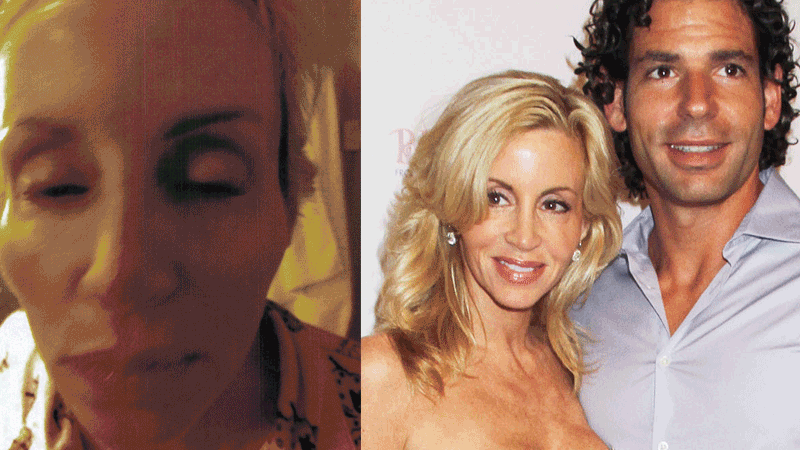 Another day, another desperate court case. Camille Grammer is going through the legal ringer again in the ongoing drama with her ex-boyfriend, Dimitri Charalambopoulos.
Grammer's estranged lover of two years originally sued her for defamation after he says she made up the story that he beat her to a pulp in a Houston hotel room last October while she was recovering from cancer-related surgery. She then countersued for battery, insisting she was telling the truth.
Article continues below advertisement
The Real Housewives of Beverly Hills star followed up her suit on August 12 by filing a motion to dismiss Charalambopoulos' case, claiming she wasn't guilty of defamation because she never named him when speaking publicly about the assault.
In new court documents RadarOnline has obtained exclusively, Charalambopoulos' lawyers have responded to Grammer's latest legal salvo by saying he suffered "a series of defamatory, malicious, and false statements invented by Camille Grammer, rejected by a grand jury and then pedaled to media by her or her associates to fan the flames of the fabricated 'assault' and fabricated 'stalking event.'"
READ THE LATEST LEGAL DOCUMENTS
According to the legal papers, the couple was staying at the Hotel ZaZa in October of last year when 45-year-old Grammer lashed into Charalambopoulos after an unnamed woman sent him a text in the middle of the night.
"Grammer was screaming accusations that Charalambopoulos was a 'liar and cheater' and questioning, 'Why is another woman texting you?'" according to the docs.
Article continues below advertisement
Charalambopoulos' team then claims Grammer "broke his cell phone and began striking him."
After Charalambopoulos, 35, fled the scene, he claims Grammer fabricated an assault story and had a hotel employee call the police. He says she then repeated the assault story everywhere from tweets to The Dr. Oz Show.
Legal counselors for Charalambopoulos urge the court to deny Grammer's motion to dismiss their client's defamation lawsuit and reject her argument that she was just practicing free speech. Meanwhile, they contest, Grammer is flagrantly violating the law.
"Defendant filed a false sworn statement to obtain an improper Restraining Order, then fabricated another 'stalking incident' she or her associates through various media sources to injury Plaintiff," the documents state.
In a move that will keep the battle between the former lovers raging, the lawsuit concludes that Grammer's motion to dismiss Charalambopoulos' defamation claims "should be denied."