'RHONY' Recap: Bethenny Comes After 'Fraud' Sonja Over Her 'Cheater' Brand Name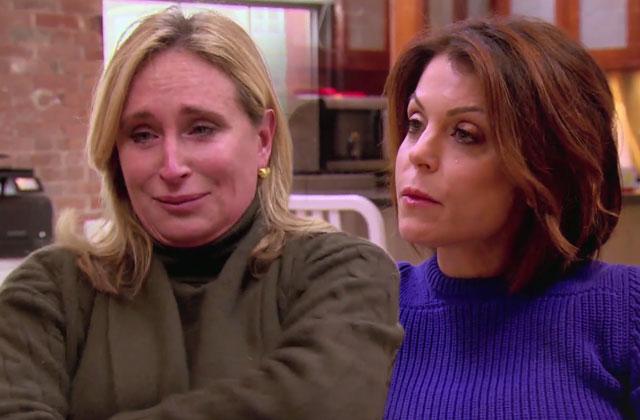 They say imitation is the highest form of flattery, but not for Skinny Girl mogul Bethenny Frankel and Tipsy Girl copycat Sonja Morgan (she should've just used the word "lady" and called it a day).
In last week's episode of the Real Housewives of New York, Morgan unveiled her own line of prosecco, which happens to bear the name "Tipsy Girl" — what's in a name, anyway? When it comes to branding, the title is everything and Bethenny Frankel guards hers like a junkyard dog guards used tires.
Article continues below advertisement
Looking back on her fight with John Mahdessian over his Skinny Cow comments, it's no surprise that Frankel had a less-than enthusiastic reaction to Morgan's name choice. A wise woman, Jules Wainstein foreshadowed the feud during the previous episode, saying "sh*t is about to go down".
Sure enough, during a meeting, Morgan described Frankel as "aggressive," though the term "hostile" would be more fitting. Before Morgan arrived at the lion's den (also known as the Skinny Girl office), Frankel was already fired up.
"The fact that I even have to have this conversation makes me sick," she muttered as she paced around the office, her employees staring hard at their computers as if they've seen this before. "I'm nervous for Sonja because I do not come from a long line of sugar coaters."
As she predicted for herself, Frankel did not sugar coat anything with her Tipsy Girl opponent. After defending her new business venture, Morgan tycoon was in tears, babbling on about needing to get "back to where I was."
Article continues below advertisement
Unfortunately, Frankel did not tolerate the waterworks. "They call it a cheater brand when a brand uses a similar name and rides on the coattails of a bigger brand," she said.
"I'm just trying to get back to where I was," Morgan cried in reply. "I thought the alcohol was a great idea. I looked up to you and I thought it would be a great way for me to get ahead. I wasn't thinking anything big like you're doing."
"I'm just actually personally hurt," Frankel bit back, showing no mercy. "I put my neck out for you. I'm completely insulted and I don't want anything to do with you."
Morgan, dumbstruck, then offered: "Well I never would have thought that."
"I think you are a fraud," Fankel laid into her, "Cause you came up with six fake businesses and no one buys any of it. It's all bullshit. From the toaster to the cabrioles to the jeweler I introduced you to. I don't believe any of it. Nobody believes any of it."
Article continues below advertisement
"I don't believe that you didn't do this intentionally," she continued to Morgan, now sobbing. "You can't play stupid and smart at the same time. You can't. I have compassion for you. I have to get back to work. I wish you luck. I don't want to have this conversation anymore."
Watch the Video on RadarOnline.com:
Just when you thought it couldn't get any more explosive, episode 7 delivered more heat with John Mahdessian's laundry party.
Of course, Ramona Singer crashed the event and for someone who spent the last few episodes calling all of her friends alcoholics, she sure was drunk! She wasn't the only one headed for a hangover, however. One of the many men Luann Delesseps "used to date" crashed the party as well.
His name may be Rey, but this gentleman's prosecco line should be called Sketchy McCreep, being the strangest and creepiest man to ever grace an episode of the Real Housewives of New York — and that includes Simon van Kempen and John Mahdessian .
Article continues below advertisement
Blatantly drunk and disheveled, Rey attempted to talk to Luann, who practically ran out of the party, but not before he told her to "shut up" and that he was still in love with her. With nowhere else to turn, Singer came to Ray's rescue, revealing to pals that "they used to just f*ck."
Watch the Video on RadarOnline.com:
Mahdessian kept a close eye on Singer and Rey, who was busy spitting his dirty martini and screaming about Ibiza with an overly red complexion.
It didn't take long for Mahdessian to have enough of their antics, however, attempting to kick Rey out of the party. Then, for some unknown reason, Singer came to Sketchy McCreep's defense, yelling incoherently at Mahdessian.
"How dare you ruin another event of mine!" Dorinda screamed at Ramona as the screaming match segued outside. When Ramona continued to bellow, Dorinda even threatened to call the police.
"Don't try to put this sh*t on John now. Go home!" she yelled.
Of course, after Ramona left, Dorinda took a taxi home, ignoring Mahdessian's pleas for her to stay back with him.