ABC Execs Asked Regis Philbin To Return To 'Live' With Kelly Ripa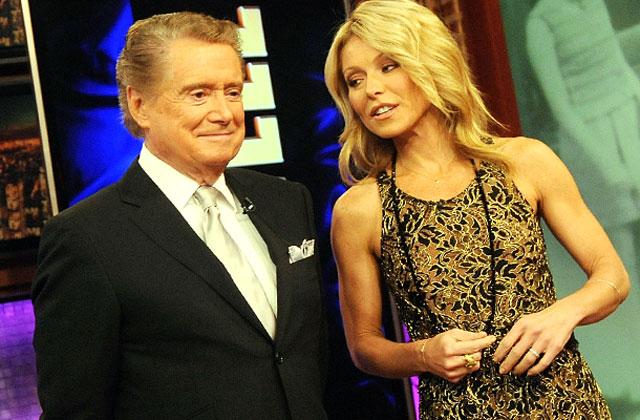 After Michael Strahan announced his hasty departure from Live! With Kelly and Michael, ABC executives have been working hard to find a replacement co-host — even if it means crossing into old territory!
As RadarOnline.com reported, veteran host Kelly Ripa was furious with show executives when Strahan, 44, announced his plans to leave for Good Morning America without informing her first.
But Ripa may be in luck, as former co-host Regis Philbin has been asked to return to the show, Page Six reported.
Article continues below advertisement
"He's already been approached. It's been a bunch of phone tag back and forth. It's in the very early stages," a source told the publication.
After Philbin and his wife, Joy, were spotted dining at the Polo Bar with Henry Schleiff of Investigation Discovery, more rumors began to swirl.
"Regis gave his opinion about the Michael and Kelly rift, and Henry proposed to spearhead a 'bring Regis back' campaign called #brb," an insider told Page Six. "Joy was in support of it. They all seemed game for trying to get him back. I think he'd have to look at the deal, but he was into it. He was totally positive."
However, a Live! rep wrote of Philbin making a comeback, "Seriously?" and Philbin's rep didn't comment on the matter.
Meanwhile, RadarOnline.com has exclusively learned that Ripa and Strahan have finally buried the hatchet, acting friendly on the set of Live! Monday after their Emmy win.
"Michael and Kelly seemed to be better than ever," an eyewitness told RadarOnline.com. "No more on-air digs or dirty looks!"