Regis Philbin Defends Kelly Ripa Over 'GMA' Betrayal: 'They Should Have Told Her'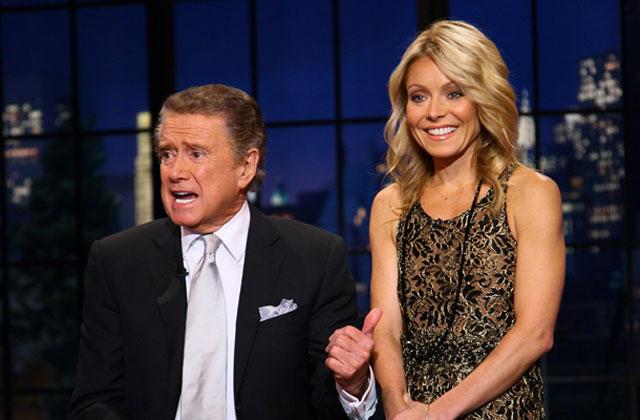 Regis Philbin has come to Kelly Ripa's rescue following drama surrounding Live! With Kelly and Michael co-host Michael Strahan's sudden departure.
Though some reports claim the TV veteran pulled the same stunt on Ripa just five years prior, Philbin slammed ABC network for keeping the his former coworker in the dark.
"Michael Gelman, you know. . .I don't want to know. I know what it is. They should have told her in the beginning," he shared with photographers Thursday afternoon.
Article continues below advertisement
As Radar previously reported, Strahan announced his exit from ABC's Live! With Kelly and Michael on Tuesday, sharing that he'll be joining Good Morning America full time.
The news didn't seem to go over very well on set, however, as Ripa was noticeably absent from Wednesday's segment,  beginning her scheduled vacation early.
As for Kelly's abrupt absence from the show this week, 84-year-old Philbin seems to believe the drama will die down by the time she returns next Tuesday.
"They're going to be alright. It'll be fine," he said.
Despite seemingly taking Ripa's side, Philbin did manage to reserve some kind words for Strahan.
"He is great!" he said. "He was great with the Giants. He is great on our show. He is doing a lot of stuff. He really is."
"He is a real pro and they are going to use him down there at GMA because they're in second place right now," he added.
Meanwhile, sources say Kelly "has been very moody and emotional the past couple of years and Strahan was dreading going to work."