Sham Marriage — Now Divorce! Kim Kardashian's Marriage To Kanye, Kris Jenner's Evil Lies EXPOSED!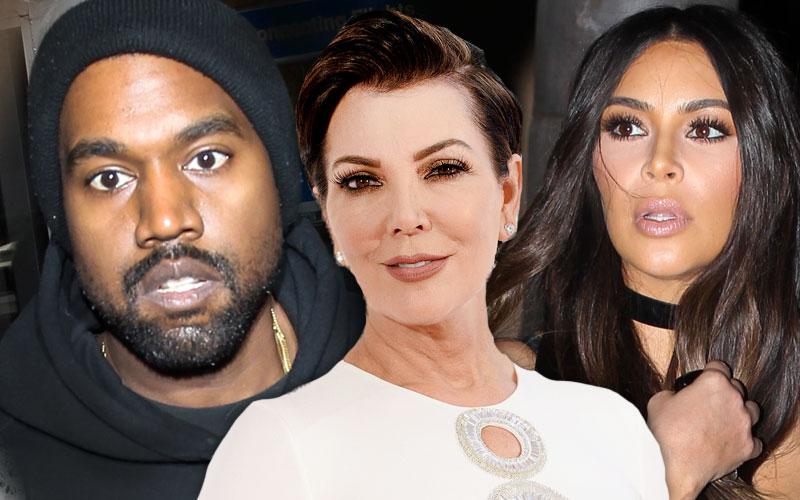 Just as the Kardashian empire began to fade into dust, along came a world-famous, attention-drawing rapper to rescue them from the clutches of irrelevance — and according to bombshell new claims by author Ian Halperin it was no accident. Rather, it was all a part of a meticulously laid plan to salvage the family's brand and elevate it to heights it had never seen.
Halperin told RadarOnline that his publisher, Simon and Schuster, has forbidden him to discuss the project. However, a publishing insider spoke exclusively with RadarOnline.com about the dark secrets unearthed in the process of researching the book, Kardashian Dynasty.
Article continues below advertisement
"Kim's marriage to Kris Humphries had collapsed after just 72 days and with the media claiming their relationship was just a publicity stunt, there were debates going on behind the scenes about whether the show was toast," the insider told RadarOnline.com. "There was a real danger that the plug was going to be pulled on them."
Faced with impending doom, the family matriarch prepared the war room. "Halperin says he discovered that Kris Jenner called a crisis meeting and came up with the idea of moving the plot forward by having Kim date someone else who was fashionable and ideally of African American descent," the source told RadarOnline.com. "In the end, Halperin says the list included one Caucasian, Justin Bieber, as well as Kanye West, Nick Young, of the LA Lakers, and Matt Kemp, of the LA Dodgers, who once dated Rihanna."
Although he did not fit with the athletic aesthetic that Kim began to favor after her Ray J days, the aging beauty decided to give rappers one more try in a desperate bid to save her family. "Kim settled on Kanye, though at first she thought he was too short for her," the insider said.
Ever the businessman, Kanye accepted Kris's proposal. "Halperin says that Kris was upfront with Kanye about this being a set up and he agreed because he thought his star as well as Kim's would be augmented."
Article continues below advertisement
However, even the best laid plans go awry — Kim and Kanye lost site of their business arrangement and caught feelings for one another. "It became friends with benefits and Kim got pregnant and they really did fall for each other."
As RadarOnline.com has reported, Kim and Kanye were recently shocked back to reality when the rapper turned fashion designer revealed to the world that he was buried under 53 million dollars of personal debt. Kim has since begun consulting with her divorce attorney, readying herself for the future, and determined to safeguard her family fortune against Yeezus — the man they once considered their savior.