Exclusive
Inside Prince's Terrifying Last Flight: Jet Made Rapid Descent In Emergency Landing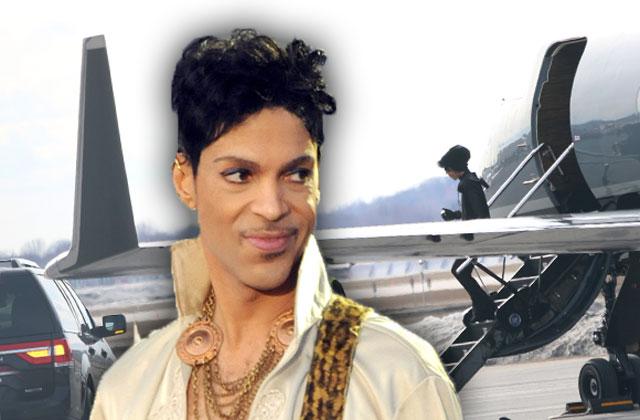 Prince was likely suffering from more than just the flu during his scary final flight one week before his tragic death, RadarOnline.com can reveal.
According to flight records obtained by Radar, the late music icon— who was discovered dead in an elevator on his Chanhassen, Minnesota property yesterday morning— was headed for Minneapolis in his private jet following an Atlanta concert in the wee hours of April 15.
Article continues below advertisement
The singer took off at 12:51 am est, and was coasting at a comfortable altitude until the pilot made an abrupt change at 2:02 am.


The plane descended 45,000 feet in just 15 minutes, at an average speed of 3,000 feet per minute.
According to aviation experts, a normal descent is about 500 to 1,000 feet per minute.
At 2:18 am est, the plane landed at Quad City International Airport in Moline, Illinois, just one hour away from Minneapolis.
At that time, Prince received medical treatment at a nearby hospital for the flu, his reps claimed.
The flight records indicate that the star spent the night in the city before taking off again the next morning at 10:57 am cdt.
He eventually landed in Minneapolis/St. Paul International Airport at 11:45 am cdt.
Prince's pilot declared an emergency, which an aviation expert reveals is "very serious."
"A plane declaring an emergency is like screaming fire in a movie theater," the source explains. "All other planes must get out of the way. It's a very big deal."
Article continues below advertisement
Some reports recently alleged Prince suffered a drug overdose, while others claimed he was experiencing the effects of a longtime illness.
Prince brushed off any sign of trouble the morning after the incident, tweeting about "floating on a cloud of purple intoxication" after his performance.
Sadly, the 57-year-old would only survive six more days before a friend found him unresponsive at home. Ambulance responders declared him dead on arrival.