Can't Be Tamed! Adam 'Annoyed' With 'Loud-Mouth' Miley On 'The Voice' Set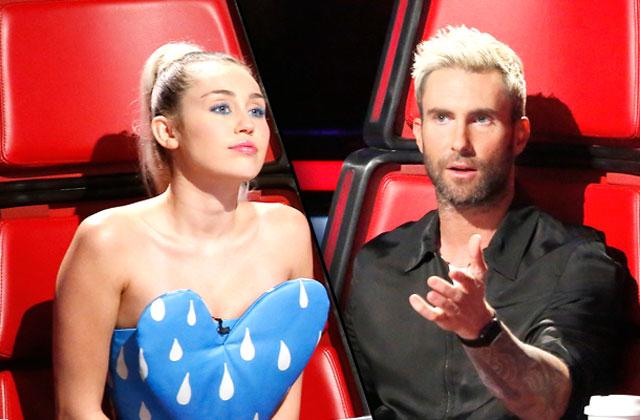 Move over Gwen Stefani and Christina Aguilera: There is a NEW feud erupting on the set of The Voice! RadarOnline.com has exclusively learned from a production source on the NBC show that veteran judge Adam Levine, 37, is already at war with "Wrecking Ball" singer and show newbie, Miley Cyrus, 23 – after only two weeks of filming together!
The new season won't air for months, but has already begun filming.
Article continues below advertisement
"Adam and Miley were non-stop bickering during their last taping together," the insider said.
"He nitpicks almost every single thing she says. Adam seems to find Miley to be extremely loud-mouthed and absolutely annoying!"
As RadarOnline.com previously reported, Christina Aguilera, 35, has been in a nasty spat with Blake Shelton, 39, after she replaced the country crooner's girlfriend – 46-year-old "Make Me Like You" singer Stefani – as a permanent judge on next season's show.
"Blake hates the fact that Gwen is no longer with him in the judges' chairs this season," an on-set source previously told RadarOnline.com. "Everyone knows this and he is taking it out on Christina, and they are not getting a long at all."
According to the insider, Aguilera enlisted Cyrus as a full-time judge on Season 11 of The Voice to ensure that Stefani would not be back on the panel.
However, "executives are now second-guessing their decision to bring Miley Cyrus on full time because she cannot get along with Adam to save her life!"
Do you think that Miley Cyrus is a good addition to the panel? Tell us your thoughts in the comments below.