Exclusive
Can't Keep Up! Kardashians Face 'Serious' Financial Crisis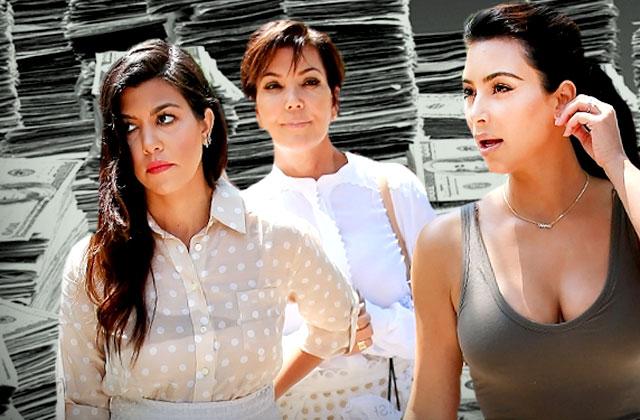 RadarOnline.com has exclusively learned the Kardashians are getting a major financial reality check — and the fallout from their extravagant spending could leave them in the poorhouse!
The clan has been thrown into a crisis over a series of money mistakes, including debt-ridden boyfriends and husbands, a new $180 million lawsuit and flagging ratings on their show, Keeping Up with the Kardashians.
"The family needs a miracle to save them from hemorrhaging their dwindling cash," an insider warned.
Article continues below advertisement
As RadarOnline.com reported, Kim Kardashian recently blamed her mom Kris Jenner for mismanaging her money, even though it's 35-year-old Kim who "blows over $300k a month on shopping alone – and that's just not sustainable," pointed out the insider.
Compounding the issue, her husband, Kanye West, 38, admitted last winter to burning through millions and being "in debt" after a failed effort to prove himself as a fashion designer.
"They all got pretty complacent about money when Kanye came on the scene, but turns out he's worse with money than they are!" noted the insider
But the issues don't stop there. Kim and her sisters, Khloe, 31, and 36-year-old Kourtney, are battling a $180 million lawsuit after an investor alleged they are guilty of "deceit" and "fraud" in dealings with their failed Kardashian Beauty makeup line. "This lawsuit couldn't have come at a worse time," the insider told RadarOnline.com.
While "Kim's made a few inroads to earning more with her gaming app," the reality star's sisters aren't faring nearly as well. "Khloe's show flopping and Kourtney barely earning a dime on her own in years isn't helping," said the source.
"Kris is tearing her hair out with worry — there's way too much going out and not enough coming in," added the insider. "This family is headed for real trouble if they don't start turning things around fast."