Exclusive
Shady Sheen? Brooke Accuses Charlie Of Hiding Money To Avoid Child Support Payments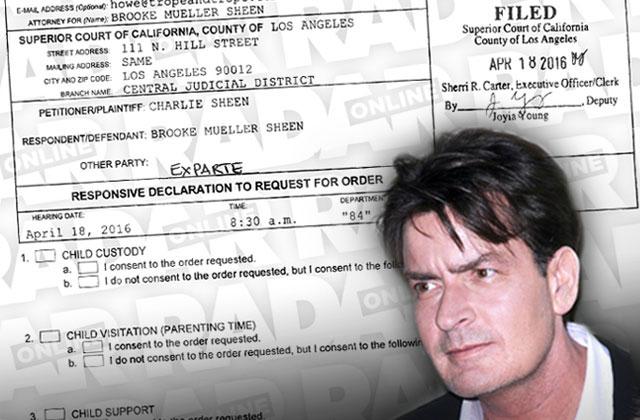 Charlie Sheen's ex-wife, Brooke Mueller, has come out swinging in their custody case, claiming the Two and A Half Men actor is knowingly "distorting" the facts about his financial state in the hopes of reducing his court-ordered child support, RadarOnline.com has learned.
As RadarOnline.com reported, Sheen, 50, filed to reduce his $55,000-per-month support payments to Mueller for twin sons Bob and Max, 7, in March 2016, claiming his income had substantially decreased since he sold off his Two and A Half Men profit participation points for $26 million. The court has not yet ruled, but ever since he filed Sheen has only been paying Mueller $10,563 per month. She filed in April to get him to pay the $88,000 difference that she claims she is owed, and the court issued a writ of execution to allow her to collect in April, but the money's still tied up in court — and Mueller is livid.
Article continues below advertisement
Newly filed court documents obtained by RadarOnline.com blast, "What Sheen fails to tell this court is that until last year, he had a guaranteed revenue stream from his profit participation in Two and A Half Men of $613,421 per month, but that in October, 2015, he chose to sell this revenue stream for $26.75 million."
READ The Bombshell Court Documents
"Essentially, Charlie converted this ongoing guaranteed income into an asset, in an attempt to circumvent the child support orders and child support laws," the latest filing claims.
What's more, she says the money seems to have disappeared.
"Despite Charlie's sale of his Two and A Half Men profit participation for $26.75 million on an unspecified date within the past twelve months, he claims to have bank accounts worth only $2,090,000," the papers state. "Something is not right. While crying poverty and failing to pay court ordered child support, he continues to own multiple mansions across the globe, fly all over the world on private planes, have several paid employees at his beck and call, and live an extremely lavish lifestyle … The facts just do not add up and it is clear that Charlie is not being forthright with the court or with respondent."
Article continues below advertisement
"Charlie's motives and intent are transparent," Mueller, 38, blasts. "He thought he could arbitrarily pay to respondent whatever he decided to pay her while his request to reduce child support was pending."
"He circumvents the law in an obvious fashion by selling his stream of income for $26.75 million to support his argument that his child support obligation should be reduced because his income has gone down," she insists, claiming the court "should not allow him to voluntarily distort his wealth to avoid supporting his children."
But according to a source close to Sheen, the smaller payments are perfectly in line with with his current income. Sheen has argued that he earns about $87,000 now, compared to the $613,000 per month he made while filming Two and a Half Men — and when he signed his settlement with Mueller.
Said the source, "Charlie is following the court's instructions. Brooke should stop with this."
A hearing is set for June 7.