Exclusive
Truce! Bristol Palin & Dakota Meyer End Custody War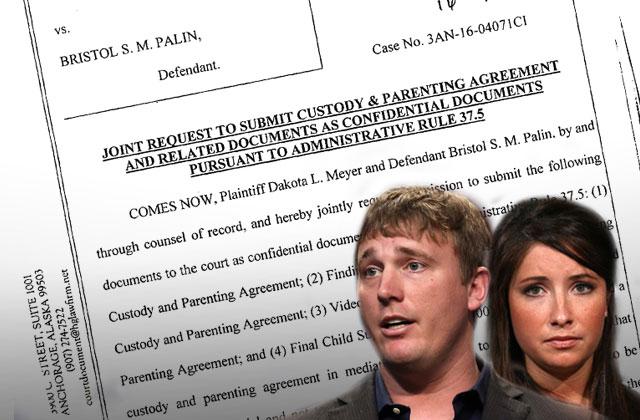 It's over! Bristol Palin has ended her messy custody battle with Dakota Meyer, RadarOnline.com has learned — at least, for now.
The duo filed court documents in Alaska on April 20, alerting the judge that they had "reached a custody and parenting agreement in mediation" regarding daughter Sailor, born in December 2015.
Details of the agreement were not made public, as they agreed "not to disclose those terms publicly" and to file them as "confidential documents."
Article continues below advertisement
"The parties agree that it is not in the best interests of their daughter for the terms of their agreement to be publicly disclosed," the documents state.
That's certainly a change form past filings, where the couple laid bare their nasty text messages to each other and battles to control the life of their daughter.
Palin had previously asked a judge to edit her visitation schedule with Meyer so she could spend her first Mother's Day with Sailor. But in court documents filed on March 14, Meyer hit back and said he wasn't backing down.
Meyer's attorneys asked the judge to set visitation for Mother's day from 9 a.m. To 6 p.m., noting that "Ms. Palin originally had proposed visitation on that day … and that proposal was relied upon by Mr. Meyer in making his travel plans" from Kentucky to Alaska.
"That will still provide Ms. Palin time with Sailor on Mother's Day, but will also allow Mr. Meyer, who is traveling across the country to see his daughter, to spend time with her that day as well," they claimed.
Article continues below advertisement
"There is no valid reason to deprive Mr. Meyer of visitation with Sailor that day simply because it states on the calendar that it is Mother's Day," the documents continue. "Mr. Meyer cannot change his work and travel plans, which have already been made to move the visitation that was planned and ordered for that day … and it would be unreasonable at this juncture to expect him to do so.
As Radar has reported, Palin, 25, and Meyer, 27, have been locked in a nasty custody battle since Sailor's birth on December 23, 2015. The couple broke up in May, just weeks before they were set to wed.
But there's no guarantee this is the end: Palin's custody war with ex and baby daddy Levi Johnston was off and on for seven years, and just finalized in February.